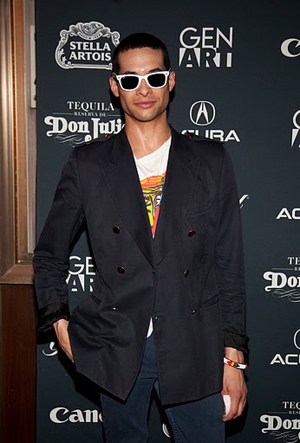 The squabble that even continues off set as well.
As you all know CW's 'High Society' is a show about ill redeemed individuals who are suppose to be the standard mean deviation representation of most human beings in America give or take a few standard deviations. That said last night our camera boy happened to hear a little squabble going on between these two. Do you want to guess what was said to each? Well, how about for the sake of anonymity we just couch all the possible answers in this top ten list and let you figure out for yourself what was actually said. We think you will figure it out.
10/ Paul, do you think I can borrow a cup of sugar from you seeing as we are best neighborly friends?
9/ 'Devorah do you want to drop by later and do an eightball?
8/ Paul you know that you're a phony and a fake and that really you don't have a trust fund.
7/Devorah can I reach over and give you a big loving hug, I suddenly feel the earth shaking.
6/ Bitch can you at least let the photographer take a few pictures of me too?
5/ Jesus, how long can one man continue staring at the camera like that, you're not the only celebrity here you know.
4/ Jules Kirby told me she thinks you are a bitch and frankly I can't understand why?
3/ At least I don't have to suck doormen's balls to get a line of coke.
2/ Devorah is that your purse on the floor?
1/ Why wont you just fxxking grow up Paul?!
HAPPY TO SEE HAPPYTHANKYOUMOREPLEASE
The ascent of the celebrity blogger. A who's who in the sleaze department.
Joy, accolade and a touch of misbehavior at the 15 Gen Art Film Festival.
Devorah Rose: Villainess or Victim?
The pathetic fixtures of New York High Society.