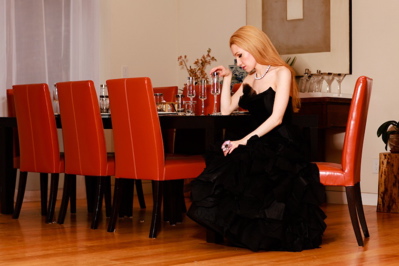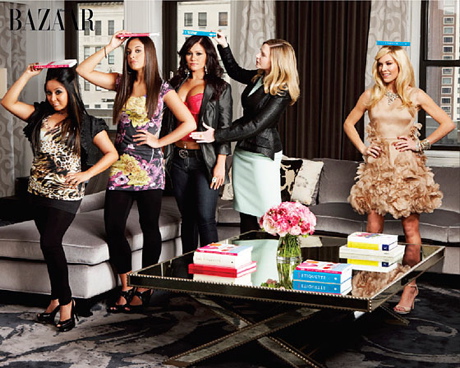 For those of you uninitiated to the filming of the reality show (and I'll use that word lightly) – High Society, the show has caused some degree of consternation amongst its stars, its producers and even some members of the press. One thing is for sure, what we mean by 'society,' has perversely gone out the window ever since the show began airing and despite all the magic things that Tinsley and her handlers keep coming up with (like this months editorial at Harpers Baazar ) one has a hard time believing any of this really has anything to do with society and more to do with fame mongering. Of course last time we checked, fame mongering and society lived on the opposite side of the pond…but that was then and this is the heady now…

That said, in light of the recent finagling and demonizing of certain characters on this 'society' show we decided to let Devorah Rose, one of the principal stars of the show and as tonight's episodes will show-dubious punching bag of Tinz express her rather curt point of view. Like us we think you'll regrettably come to the view that at the end of the day as much as Tinz tries to be a society princess, she's really at best just a ' two faced fame whore.' But then again this is what we mean by High Society, or do we? – Scallywag.
DEVORAH ROSE;
Tinsley Mortimer and Dabney Mercer are two-faced.  They act one way in front of a camera (any camera), yet completely differently in private.
During the second week of December – just after we wrapped filming for Tinsley's self-promotional vehicle High Society – my mother, my close friend Katie, and I attended the Broadway show Rock of Ages.  Afterwards, Constantine Maroulis invited us all up to his dressing room and we hung out there for about a half hour with Constantine, Tinsley Mortimer and Dabney Mercer.  Given the manner in which they had thrown me under the bus during filming, I was not happy that Tinsley and Dabney were there, but the two sisters were all saccharine smiles, as per usual.  Afterwards, Dabney texted me:
Hi babes!! Tins and I loved seeing you and meeting your mom last night:) 🙂 wasn't Rock of Ages amazing?! Hope to see you soon!! Xoxo
How curious.  During filming, Tinsley and Dabney pretended they didn't even know me.  Yet suddenly they're all hugs and kisses?  I would respect them more if they
What tender loving things did Devorah Rose and Paul Johnson Calderon say to each other at last night's Gen Art premiere?
Devorah Rose: Villainess or Victim?
The top ten media whores of NYC.
The pathetic fixtures of New York High Society.
Pest of a Guest- Tinsley Mortimer.