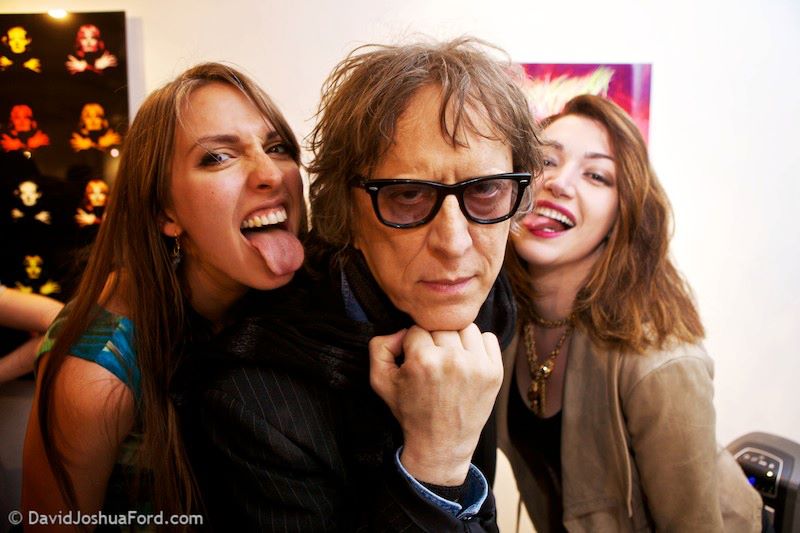 Last Thursday saw a sundry of collective hawt bixches attend a showing of Mick Rock's latest work, titled "The Legend Series," at Catm Chelsea and what a turn out it was.
Mr Rock who has carved a name for himself for documenting the lives of the fabulous since the heady 70's and in some way has become his own fabulous entity (despite his insistence otherwise) offered the following as the jet set turned out in force last Thursday:
via bangstyle: "Mine, if I have a gimmick, is that I appropriate my own images, unlike these new would-be post-Warholian artists," Rock told DNAinfo. "I'm having fun with it. As long as I'm having fun, I'm going to continue to produce. And I have tons of material."
Rock is known as "The Man Who Shot the Seventies," producing hundreds of images of the world's most famous since the height of rock 'n' roll. Most of the photographs in the exhibit were shot recently — and include pop divas Madonna and Lady Gaga. 
With barely room to perform ones own runway show up and down the plank (as if you didn't try…) one had to resign themselves that those depicted on the wall were perhaps a tad more fabulous than those of us who had come to see them or perhaps to put it another way who couldn't resist being the focal subject of Mr Rock and one day making it part of Mr Rock's chronicle of who's what and hawt?
Offers Mr Rock: "Instead of pop art, this is really rock art," he said. "The culture embraces that — there's such colorful characters, emotions and colors of the music to bring out. Plus, we live in such a colorful world."
Indeed and there was plenty of color to go round, if only I had grabbed two drinks instead of one at the mobbed bar.
Hawt bixches who attended amongst others included: Mick Rock, Lou Reed, Todd DiCiurcio (Artist), Scot Lipps (Owner, One Management), Amanda Ross, Chelsea Leyland (DJ), Ben Pundole, John & Joyce Varvatos, Timothy White (Photographer), Alberta Cross (Band), Gary Graham (Designer), Paul Johnson Calderon (Aspiring Reality TV Star), Michael H., Nur Khan, Mazdack Rassi (Founder, Milk Studios), Rebecca Dayan (Model), Clem Burke (Blondie), Tennessee Thomas (Actress, Drummer for The Like), As Light Takes Over (Band), The Ravonettes, Cory Kennedy (Model) and my mate artist Skye Nicolas with his own cache of hawt bixches.