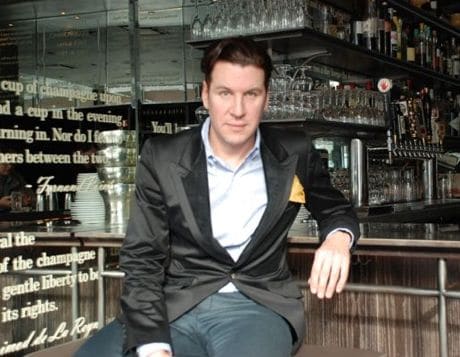 Peter Davis is the modern day equivalent of the nineteenth century French dandy Robert de Montesquiou– flamboyant, erudite, debonair, poised, soaked with elan, well connected and of course from society- or at least so I have been told. That said, after a year of first meeting Mr Davis at a Coalition of the homeless benefit (a cause that he holds dear to his heart) and further running into him at a number of other events and hearing more and more about him I was intrigued enough to actually find out what made the man tick, what inspired him, what visions he held, his thoughts on society, the publishing world and of course to get the scoop on some necessary scandal and gossip.
It's a little after 3pm on a Thursday afternoon, where after months of finagling on both our ends we finally catch up at the impressive DBGB restaurant– who had been nice enough on this occasion to allow us to be their guests. A cursory regard of the room unfolds colorful characters luxuriating, the scent of God with sage and the visage of a rather handsome man wearing what appears to be a custom made charcoal tuxedo jacket with a mango colored  handkerchief in its lapel.
At first we express pleasantries when suddenly Peter is telling me about a horrid diving experience (my revelation that I was born in Australia elicits memories of the Great Barrier Reef and near death experiences)  he had in some third world nation, and about a shark that wanted to eat him and how he had run out of air. To be sure I am rather impressed and incredibly beguiled and in turn I begin to tell him about my own nearly been eaten by shark experience and the awkwardness of running out of air and sea sickness.
As he is talking, I notice the frenetic energy, the gusto at which Mr Davis places the latest copies of the hard print copies of Avenue magazine into my hands where he is now resident Editor, his mind racing a million miles, his hands choreographing an unseen phalanx of bubbly socialites, his mind caught in between a thought, a gesture, an idea and then another idea and what he hopes to do with the journal and other projects he is also now entertaining. On some subliminal level this man wants to be loved and of course ultimately you do love him- but why you end up loving him isn't immediately obvious even if you think so…
At last a fine bottle of red arrives (yes us journalists must whet our palette), the tangy crispy calamari (with just the right amount of pesto and allepo chilli thank you very much) followed by a pastiche of tangy, spicy and sweet sausages from the grill- which had both of us and the young John Wenrich our photographer thanking Daniel Boulud and resident Executive chef Jim Leiken with a passion.
At this point Mr Davis begins to tell me that even though he was born on the 12th of December, technically he was born on the 13th, well 12.02, but since everyone thought it was bad luck to be born on the 13th, the doctors had him born on the 12th instead. I am furthermore told that even though he grew on a 14th floor apartment on Park avenue apartment, technically speaking because the building chose to skip a level- he actually grew up on the 13th floor- which has me wondering-for someone who has the number 13 thrusted at him all his life- he's done all right.
SCV: Tell me about your childhood?
PD: I was the trouble maker. I was the one with the blue punk hair on Park Avenue.
SCV: Indeed. And apart from being a trouble maker how is that you found yourself ensconed in the world of publishing?