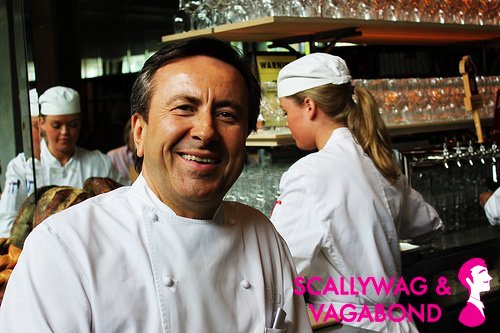 Daniel Boulud has opened his newest culinary craze – DBGB kitchen and bar at 299 Bowery. Open to the public in June, DBGB stands apart from the remainder of Boulud's decadent resume, which includes Bar Boulud, Cafe Boulud, DB Bistro Moderne and Daniel in New York City alone. Open shelves with propped up copper pots line the perimeter of the dining room furnished with modest and stylishly made rectangular tables, large leather booths and floor lights. The open shelves wrap around the entire space, leaving kitchen areas and working chefs intentionally visible to the restaurant patrons eating gourmet mini hamburgers assembled with arugula and foreign cheeses. Boulud and his collaborative loyal crew, The Dinex Group, have deliberately strayed from the pure swank of high priced eateries cluttering uptown and banded together to reinvigorate the Bowery.
The copper pots have been sent to DBGB, tagged by Grade A cooks all over the globe as blessings for Buloud's latest enterprise. Among the beige name tags dangle Jacques Lameloise, Christopher Coutanceau, Alice Waters, Jean Michel Bergounoux and countless other culinary wonders. The pots symbolize Boulud's latest theme – revamping the Bowery while keeping firm its traditional roots as original restaurant supply of NY.
"Although the decoration is contemporary," says the bright faced Georgette Farkas, PR director for The Dinex Group, "it definitely has a reference to the neighborhood's history."
DBGB aims for accessibility and affordability, two things usually unassociated with delectable gourmet food. Homemade sausages and beer inspire DBGB's menu with the pristine taste uncommonly attributed to such snack-seeming foods. "If you're gonna serve sausage, you gotta have beer," says Farkas of straight tap brew, of which DBGB serves twenty two draft varieties, establishing the restaurant as one of the few able to rival the wine list with beer list. After today's preview, the front room will be permanently converted into an all day dining area, which offers incredible food and manageable dress codes. The whole point is high class comfort – fantastic food made with fresh ingredients and a determination to relax.
The large space of dark wood in back and wall mirrors in front, shows off its contemporary edge with the glass-lined bar, silver beer taps and scented candles. DBGB models perfection in the desired balance between high and low brow culture. Farkas points at the copper pots and gestures lovingly at the arriving sausages. "It's the perfect combination of high and low," she says.The May 26th sneak preview of DBGB is performed in collaboration with City Meals On Wheels charity organization as are all Boulud's restaurant previews of his past twelve years as a board member.
"City Meals serves lower privileged people," says Farkas. "What we do is feed very privileged people and this is a way of feeding some lesser privileged as well." A hundred percent of proceeds from preview ticket sales go to City Meals. Boulud's generous hands are well trained in not only fine, but fun and fair, dining.
Boulud himself, clad in white chef uniform and a pleased-yet-humble grin, glides around the room and overstuffed counters, speaking to his waiters and chefs in a casual mix of French and English, overseeing the entire operation with the professional ease of a highly experienced culinary force. An ice cream sundae cart passes along after the assortment of heart stopping canapés with home made ice cream and a 'make-your-own' attitude bearing toppings and sweets. Boulud has truly created a living testament to the Bowery's old soul – inviting energy and excitement, charitable etiquette and charm to the culinary experience of downtown, not to mention, an enthusiasm for stellar music –Lou Reed, The Cure, David Bowie crowd the speakers. Boulud and The Dinex Group have incorporated the high and low brow, the contemporary and the classic.
The waiters are good looking and the patrons are good natured.
As for the name, it means nothing but certainly references the old club CBGB in yet another loving poke at the old neighborhood. Blogs guessing at its meaning, made by loving patrons, include:
Daniel Boulud Go Bowery and Daniel Boulud's Got Balls.
This is unorthodox in the best of ways, in the only way best for the Bowery.
Chef Daniel Boulud has done it again, like never before.