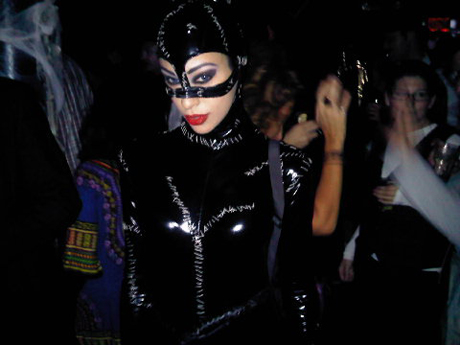 Ford Models hosted a Halloween party (undisclosed location-actually, I know where it was since I attended, but I wouldn't recommend it to my friends nor readers) last Friday night.  Babes were dressed in their finest non-fashionable costumes money can buy or rent for an evening.  Our livers were hurting through the four hour open bar, but our eyes were becoming happier and happier viewing the mixed crowd of models, agents, photographers and other invited guests.
One Wilhelmina Model managed to sneak in and catch our eyes, Annmarie Nitti. I think her costume was "major babe" since she was without a costume, the natural look.  No celebrities were spotted, no drugs were snorted, no cigarettes were even lit inside and no drunken belligerence broke out over jealous love rivals. A non dramatic, a web filled room (the webbing kept getting caught in everyone's hair, hands, costumes and even drinks…!!) of drunken people dressed up in their "own" ideas of what Halloween means to them… We met a pimp and his 'Ho", two gay sailors, two gay non-sailors, some 70's thing (not sure about that one), a hot girl with a guitar and some random painted faces.  But the prize had to be Catwoman.  What stitching, meeeeoooowww…!!!!  Let's hope we see some youthful drama this Halloween, maybe some sex in the bathroom or at least a good couples' fight.  We don't want this recession to soften the holiday mood.
Go to page 2 for more of Ford Models pics.