Many long-time New Yorkers will recall that the space currently occupied by the Rubin Museum of Art was once the original location of Barneys before its move uptown. At it's annual Nine Rivers Gala, co-chair of the board, Vikas Kapoor, joked, "I find it fitting that a place representing the center of Western retail should now be dedicated to the preservation of Eastern culture." The gala, which raises funds for the museum to continue the preservation of Himalayan art, was a treat to bear for the eyes, the soul and the stomach. Nine Rivers was a name chosen to represent the nine great rivers originating in the Himalayas: a symbol of convergence among those things that have separate paths and one that was especially meaningful considering the diversity of art aficionados who were able to support the museum.
The black tie affair began with a cocktail hour where the 350 attendees could mingle over Asian inspired cocktails and hors d'oeuvres. Among the guests of historians, scholars, Jungian analysts, museum benefactors, and investors were also the former ambassador to Nepal and the museum's founders Shelly and Donald Rubin. Aside from mingling, cocktail hour provided an opportunity to peruse the Red Book exhibition – a collection of mandala-like drawings by the preeminent psychoanalyst Carl Jung.  The works offered a refreshing insight into the often-overlooked spiritual side of Jung that heavily influenced his contributions to psychology.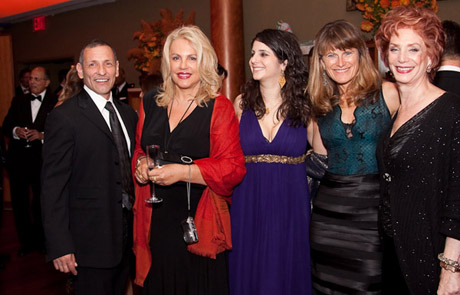 The exhibition was extremely appropriate – the program included the presentation of the Mandala Award for Humanitarian Achievement.  This year's recipient was Richard Blum, founder and chairman of the American Himalayan Foundation. The non-profit organization is dedicated to uplifting the people and the ecology of the Himalaya – and by extension, preserving the diverse and beautiful cultures of those inhabiting the area. The foundation has projects in such diverse initiatives as healthcare, education, and environmentalism. Their extraordinary work even moved the Dalai Lama to send a letter of congratulations to Mr. Blum. After the eye opening and inspirational acceptance speech, the crowd was delighted to hear the amazing vocal talent of fifteen year-old Tibetan refugee Tenzin Kunsel.
The elegant evening continued with dinner in the galleries catered by Jean-Georges Vongerichten and Vikas Khanna. Further entertainment was provided by an acapella performance by The Accidentals followed by dinner, dessert and dancing to music spun by DJ Tikka Masala.