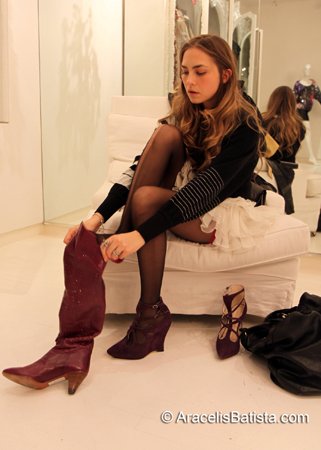 Jill Stuart is known for dressing the chic party girl; the one who wore that shiny little dress to the office Christmas party and got a tad drunk. So why was it that, other than the PR jet set (so they tell us…), this was not the crowd at Jill Stuart's holiday party?
The event was a clothing drive to benefit SAFEHORIZON.org for women and victims of domestic violence based here in New York City.  Guests who drop off clothes from now until 12/24/09 get 10% off at Jill Stuart.  We will be dropping off the clothes on Christmas Eve. (good cause guys!)
Not that we don't all adore the party girl (in fact we may have even been her many times), but a decidedly cooler group filled Jill Stuart's Greene Street store. Most looked like young fashion students— no, not the annoying kind— as they sipped the strong pink cocktails. Sure, some were dressed ostentatiously to draw attention, but most showed off their tattoos in subdued black.
What is the etiquette of arriving at this kind of soiree? It was held in a store so it is unlikely to run over its scheduled time of 6 to 9pm. Obviously no one wants to be the first to arrive, but one also does not want to be too late to an open bar that's scheduled to close at the same time those taking their disco naps are just waking up. Showing up is a bit like playing a game of holiday party chicken – hold off as long as you can until the cocktail temptation runs you over.
A final observation: In keeping with the holiday spirit, Jill Stuart's mannequins donned gigantic, smiling snowman heads. There is something deeply creepy about seeing Frosty with a hot body and a short dress.
Much thanks to AriZona Iced Tea and X-Rated Fusion Liqueur who made "AriZona Iced Teanies".
More photos on page 2!
More on Jill Stuart
JILL STUART. Modern Day Seductress. Sleek and Hot.