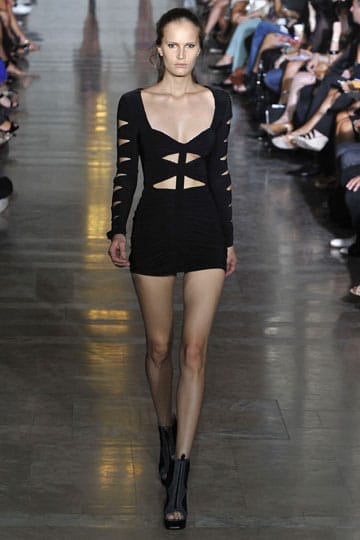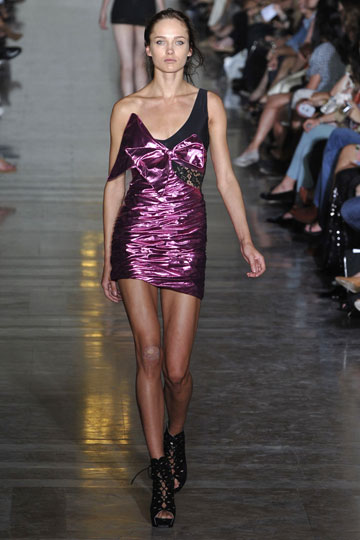 There must have been something subconsciously synonymous with Jill Stuart having her girls strut the long winding corridors of the NY Public library yesterday lunchtime. Both are long, sleek, well maintained, and a tad too risqué. And to be honest that's the way we like it. At once enabling a woman, turning her into sleek modern day vixen, showcasing her fabulous femininity and those long legs(hems barely just fell over ones posterior- and we mean barely), and yet at the same time setting her up as an azure of everyman's (and woman's )  fantasy as she wafts past them. Such it seems are the sexual tensions that Ms. Stuart revels in…
With accents on body hugging pieces, knee high meshed shoes/stockings, blue mini skirts, leggings that extend way up the torso, shiny studded metal buttons, black mini jackets with puffed Elizabethian shoulder pads, and one pieces that never dared go too below one's posterior Ms. Stuart embodies sleekness, high minded sexuality and a woman who must always believe that she is a Godess and comes from the Heavens.
As usual there were a whole parade of celebrity fixtures from TV shows and reality shows that bear little consequence to this author. As much as they craved (and they know who they are…) attention and allure there was in my opinion too much star lust thrown at Ms.Stuart and her pouty girls to be shared amongst the celebrity factor that I was told was heavily in tow and propositioning any paparazzo they could come across. To be clear the afternoon belonged to Ms. Stuart who dared push the envelope and the sleek factor.
You may want to be a star or may even be a star but the effect with Ms. Stuart's collection it's not about the stars anymore, it's like the library itself, the legacy, the capitulation to sudden goddess veneer. Only for the brave and the slinky femme fatale in you.
Outstanding Ms. Stuart. Thank you for making us take double takes,it's about time…