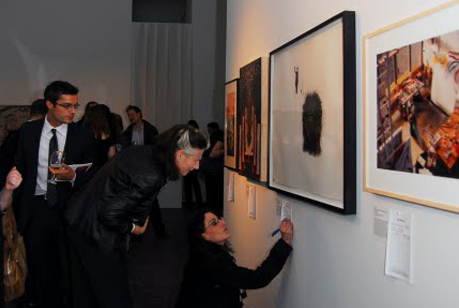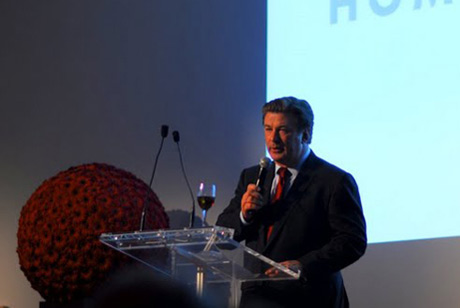 Tuesday night's benefit, Artwalk Coalition for the Homeless, brought in a sundry of discerning social types to help raise awareness and funds for a wonderful cause that has now been 15 years in the making. Chaired by Alec Baldwin (who we believe spent a mere $35,000 on one of the auction pieces), Carey Lowell, supposedly Richard Gere (we never saw him) and other note worthy patrons including our favorite gal about town Bettina Prentice (pictured above), and junior vice chairs including lovable bad boys Liam McMullan, Kristian Laliberte, Amanda Hearst, Annabel Vartanian and all the usual photogenic suspects. Honoring longtime supporter and contributor Pat Steir who touched us when she reflected what had brought her to New York City to pursue her passion to be an artist and how important it was to put back into the community.
As the high turn out crowd milled, sipped on cocktails (I believe this author didn't just sip, but nevertheless…), and reflected on the collective contributions of a spectrum of artists including  John Baldessari, Stephen Hannock, Jenny Holzer, Jeff Koons, Kim McCarty, Danica Phelps, Ed Ruscha and countless other artists. While windowshopping the silent auction, I came across one particular piece which summed up the affairs of the evening rather emphatically and genuinely.
A picture of a burning red candle (by the artist Sue Coe -2006) it read- "All the darkness in the world cannot extinguish the light of one candle."
All in all it was a brilliant evening and when I later turned to the wonderful auctioneer (they are so brilliant) who suggested a penchant for paddling, I inquired as to what makes for value of art when she demurred- "Oh you're a journalist and it's one of those trick questions."
In the end, what was priceless was the awareness, gratitude, and funds raised for a group of people whose lives should always retain merit and dignity.
See more great photos in the Scallywag Photo Gallery