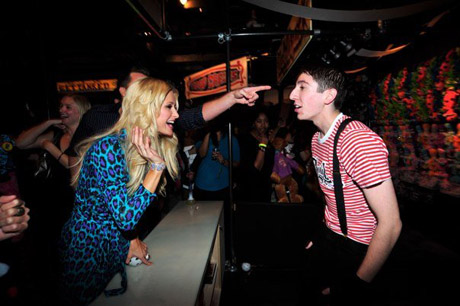 It was a night filled with popcorn, vodka soda, candy apples, vodka cranberry, games, vodka soda with cranberry, circus performers, a couple of "real" monkeys (who I tried to feed VODKA) and people walking around with yellow envelopes stuffed with plenty of tickets for games, yet only two tickets for drinks. So there I was, scratching my head like a monkey, wondering why a launch party, hosted by Paris Hilton, only gave its guests two drink tickets.  I mean, this was a launch party right?  I wonder how many drink tickets Paris was given.
A very interesting concept, placing a carnival style venue inside a bowling alley located just off Union Square.  One would have thought Chelsea Piers would be a better spot.  Paramarx labels it as "The nostalgia of Coney Island combined with the style and sophistication of downtown Manhattan." I label it as, "Coney Island invades a bowling alley with popcorn, vegetable spring rolls and tater tots." Of course, one had to sample the games with tater tots in hand, why not?  The tickets and the tots were free.  After dunking the antagonistic little girl in the Get Tanked station (and I was getting tanked myself), I moved on to the shooting gallery where I proceeded to win four times in a row.  But alas, I was out flanked by New York Social Butterfly and State Basketball PRO (so she says) Courtney Dawson at the Basket Case station.
Essentially walking away with "no" winnings to brag about and a hangover that lasted until mid next day (while writing this article in fact and probably most other articles too…).  I did manage to steal a tub of buttered popcorn and obtain an additional 12 drink tickets.  Surrounded by Monkeys, Popcorn & a brief glimpse of Paris Hilton (I was more fascinated with the monkeys to be honest) I stumbled my way down to a yellow cab to make my way into the drunken early morning hours of the city….wondering if Paris was able to get a free popcorn as well…..