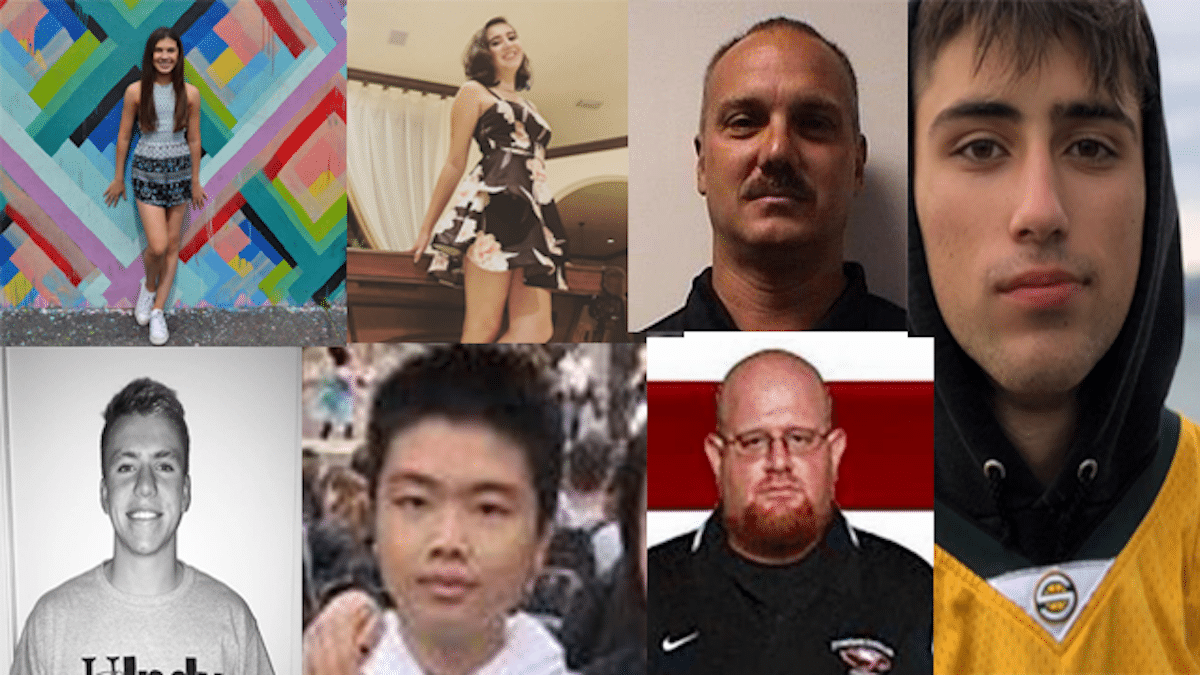 Parkland Florida school shooting victims have been identified in an un-official list following Wednesday's mass shooting at former school student, Nikolas Cruz.
The identities of all 17 individuals, 14 students and three adult teachers have been un-officially released following Wednesday's Parkland, Florida high school shooting.
Jaime Guttenberg, 14, Nicholas Dworet, a high school senior, Martin Duque, 14, Meadow Pollack, 18, Cara Loughran, Alaina Petty, 14, Joaquin Oliver, 17, Luke Hoyer, 15, Alyssa Alhadeff, 15, Gina Montalto, 14, Carmen Schentrup, Peter Wang, 15, Alex Schachter, 14, and Helena Ramsey, 17, all died.
All were killed at Marjory Stoneman Douglas High School along with track coach Aaron Feis, 37, geography teacher Scott Beigel, 35, and athletic director Chris Hixon, 49. 
Fifty others were injured. 
The students were named on Thursday by The Miami Herald. Police have not yet released an official victim list. 
The revelation follows, gunman Nikolas Cruz, 19, appearing in court on Thursday where he was charged with 17 counts of murder. Murders to which the 'broken youth' confessed to. 
After killing the 14 students and 3 school staffers, Cruz dropped his weapon and ammunition vest "so he could blend in with the crowd" before trying to escape, reported The Washington Post.
The confessed killer took an Uber to the school and then fled on foot following his shooting spree before being arrested an hour later at nearby Coral Springs.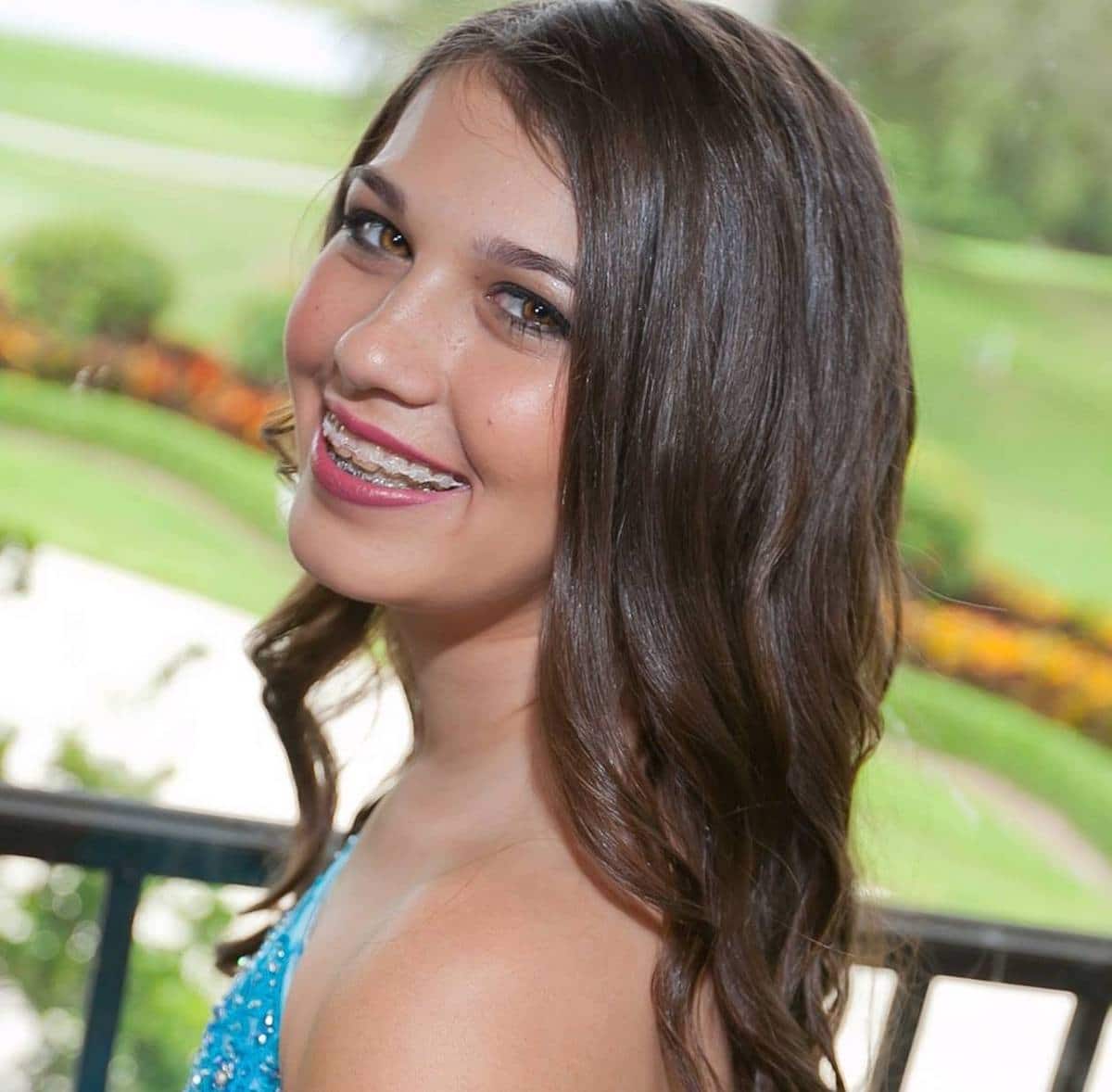 First to be identified as one of the student victims was teen girl, Jaime Gutenberg, whose family had posted on social media following Wednesday's shooing in the hopes of finding their missing daughter. The girl's parents would be relieved the grim news of her shooting death later that afternoon.
Told Fred Guttenberg in a tribute to his daughter on Facebook, 'My heart is broken. Yesterday, Jennifer and I lost our baby girl to a violent shooting at her school. We lost our daughter and my son lost his sister,'
'I am broken as I write this trying to figure out how my family gets through this. Hugs to all and hold your children tight,' he said. 
Parkland Florida school shooting victims: A flowing of tributes and heartfelt loss follows.
Also confirmed as dead was high school senior, Nicholas Dworet.
His swimming coach confirmed the swimmer protege's death, while saying the teen had a bright future ahead of him. 
Friends described him as a 'fine young man'. 
TS Aquatics said in a post about his death: 'He was not only a good swimmer but a good person.
'A happy young man who embodied the values of our program. 
'Nick, you have touched every member of the team one way or another and will be missed.' 
Dworet was preparing to go to the University of Indianapolis where he had won an academic scholarship. 
He had hopes of attending the 2020 Olympics to represent his country in the swim team and was in a long-term relationship with a college student in Florida.  
This is Alaina Petty. She was just 14 years-old & was tragically killed yesterday in the shooting at Parkland High School. Her Great-Aunt wrote "There are no hashtags for moments like this, only sadness." Petty was only a freshman in high school.#GunReformNow pic.twitter.com/wAuc1ptfNl

— Simar (@sahluwal) February 15, 2018
Alaina Petty and another girl who was injured but not killed belong to the same church.
Alyssa's mother shared the news of her death on social media. 
'My Daughter Alyssa was killed today by a horrific act of violence. I just sent her to school and she was shot and killed. 
'Alyssa was a talented soccer player, so smart, an amazing personality, incredible creative writer, and all she had to offer the world was love. 
'She believed in people for being so honest. 
'A knife is stabbed in my heart. I wish I could of taken those bullets for you. I will always love you and your memory will live on forever. Please kiss your children, tell them you love them, stand by them no matter what they want to be. 
'To Alyssa's Friends honor Alyssa by doing something fabulous in your life. Don't ever give up and inspire for greatness. Live for Alyssa! Be her voice and breathe for her. Alyssa loved you all forever!' she said. 
Martin Duque was another victim in the school shooting. Pictured on the right, Duque's death was confirmed by his brother on Thursday.
His brother said in an Instagram post that 'words cannot describe my pain. I love brother Martin you'll be missed buddy [sic].' He finished the post by saying he knows his brother 'is in a better place. Duques forever man I love you junior!!! R.I.P Martin Duque!'
Also gunned down was Joaquin Oliver, whose death was confirmed by his cousin on Thursday, via Facebook and Twitter. During the shooting, Oliver's sister, Andrea Ghersi, asked for help on Facebook in order to find her missing brother.
Also identified was Gina Montalto. The 14-year-old teen was confirmed dead by her friends and family on social media. She participated in the school's winter guard team.
This is 15 year old Peter Wang. He was in the school's ROTC program. He held the door open for other students so they could escape. His cousin said "He wasn't supposded to die. He was supposed to grow old with me." Wang died yesterday while saving others.#GunReformNow pic.twitter.com/2c47yzL0ad

— Simar (@sahluwal) February 15, 2018
Also killed was 15 year old student, Peter Wang, who held the door open to save other students but was killed in the shooting, his cousin, Aaron Chen confirmed on Twitter.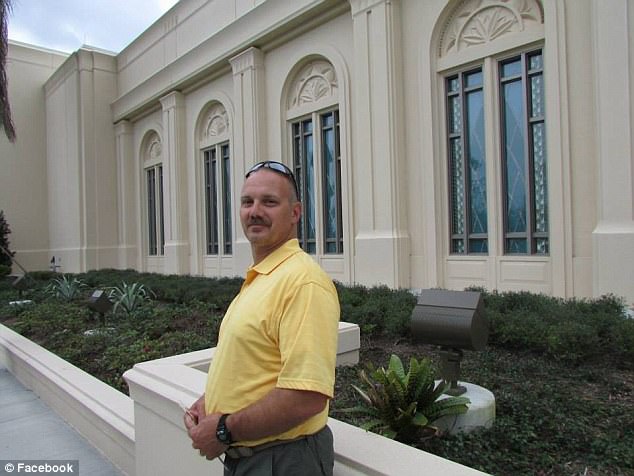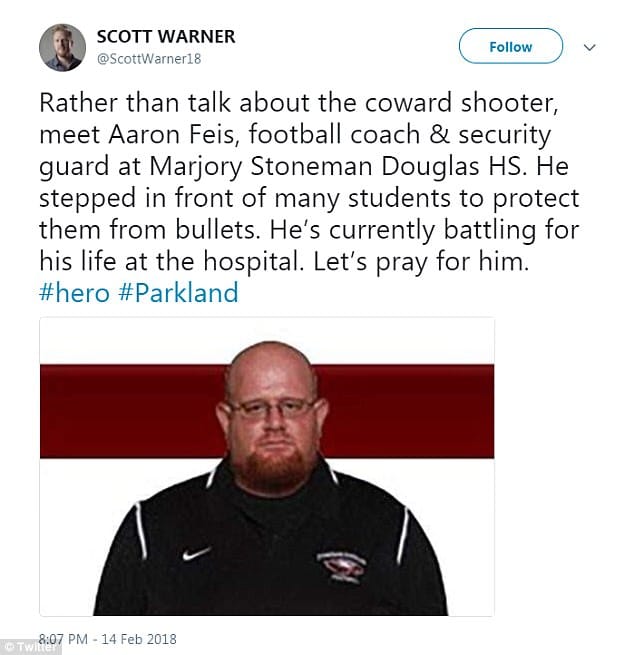 Three heroic male teachers also died shielding students from the bullets. 
They were identified as athletic director Chris Hixon, coach Aaron Feis and geography teacher Scott Beigel. 
A GoFundMe page has been set up by the city to benefit the victims. To donate to it, click here. 
It has so far reached almost $460, 000 out of its $550,000 target. 
The money will be used to pay for the victims' funeral expenses and survivors' counseling. 
As survivors grapple with the tragedy, questions turned to whether officials could have prevented the shooting which is the deadliest of its kind since Sandyhook. 
Florida school shooter January 5, FBI tip: 'We f*cked up' .
Florida school shooter bought AR-15 rifle three days after being expelled, cops visited home 39 times in 7 years
A life of depression: Did Nikolas Cruz mother flu death send shooter over the edge?
Jordan Jereb Florida white nationalist militia leader: 'Parkland school shooter was dedicated member'
NRA pulls Valentine Day 'buy your loved one a gun,' tweet after Florida school shooting
Photos: Florida teen girl and school track coach I'd as Florida school shooting victims
Nikolas Cruz Instagram photos: 'Allahu Akbar' & 'I plan on getting this gun'
Broward Schools Superintendent: 'We received no warnings on Nikolas Cruz'
YouTube user notified FBI after Stoneman Douglas shooter comment, 'I want to be a professional school shooter'
Stoneman Douglas shooter planned maximum casualties
Why? Parkland Florida High Shooter I'd with seventeen dead and 50 injured