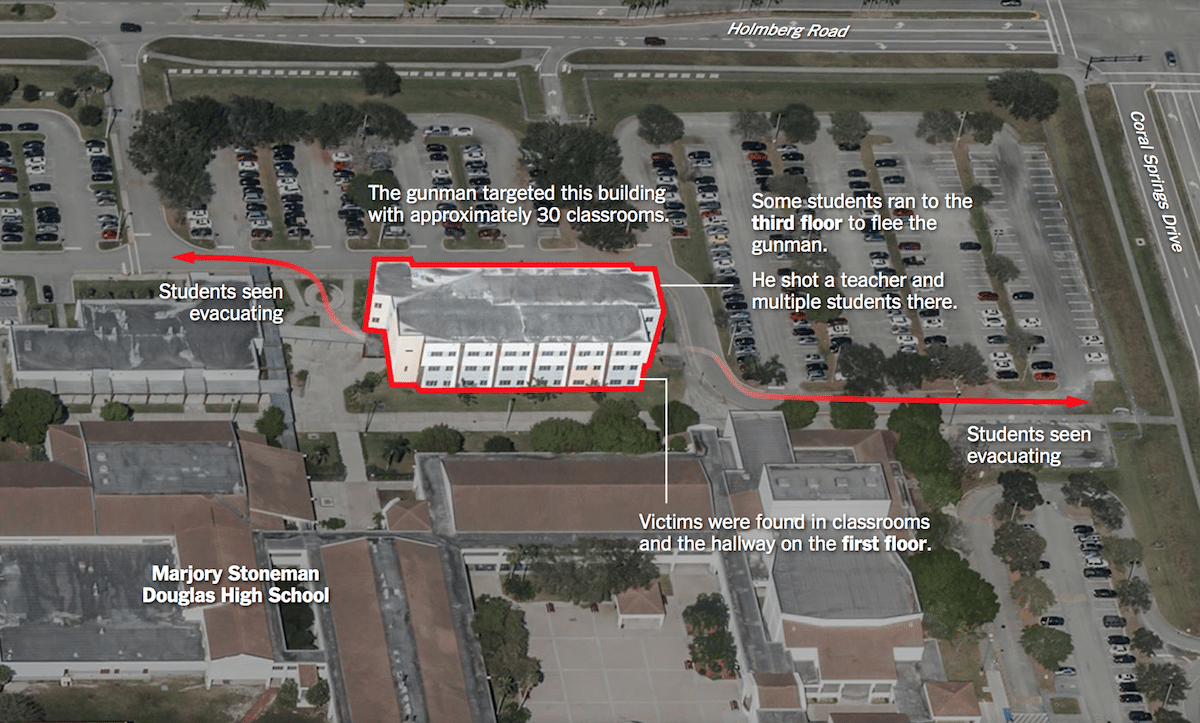 How 

Nikolas Cruz, 

Stoneman Douglas shooter planned maximum casualties as he targeted his former high school. A portrait of a ticking time bomb.
Florida authorities believe Nikolas Cruz the 19 year old Parkland High school shooter who fatally gunned down at least 17 individuals and injured another 50, sought to attain maximum carnage going into Wednesday's bloodbath.
Cruz, armed with an AR-15 assault rifle, multiple magazines, smoke grenades and donning a gas mask is thought to have pulled the school fire alarm in a bid to draw people into halls so he could get a higher death toll.
The claim from Broward Sheriff Scott Israel follows the former student at Marjory Stoneman Douglas High being expelled for 'unknown' reasons last year.
During a press meeting following the shooting which took place just on 2.25pm, Wednesday afternoon, Israel said students thought they heard the fire alarm going on prior to gunshots going off.
Ironically, the mass shooting came after the school having a fire drill earlier that day.
Police said the gunman started firing before he entered the school building, where upon making his way inside, proceeded down hallways he knew well, firing at students and teachers who were scurrying for cover.
Twelve of the people shot dead were found dead inside the school building, two more were killed just outside the school and another in a nearby street. Two other people died later after being rushed to hospital.
Reports told of the first victim being identified as 46-year-old athletic director Chris Hixon.
Having taken out his targets, Cruz slipped out of the building by mixing in with crowds of students. An hour later the former student was arrested in Coral Springs, a neighboring city a couple of miles from the school.
Following the mass school shooting, authorities told of the formerly expelled Cruz being enrolled at another Broward County school. It remained unclear what motivated Cruz returning to his former school to unleash his special brand of venom.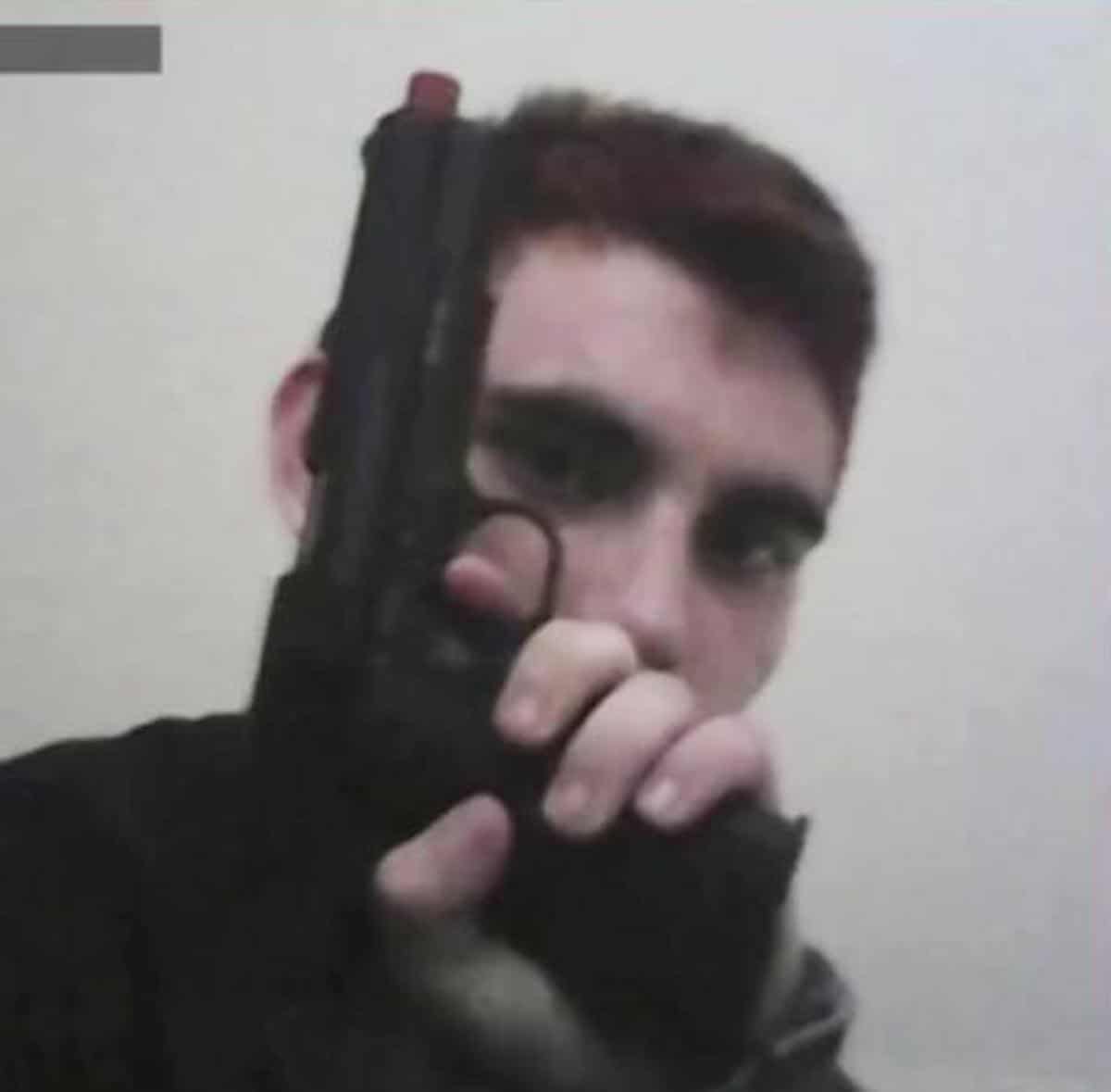 chilling sounds of AR15 in classroom in Florida. former student 19 year old Nikolas Cruz taking out his rage. at least 17 dead, many in the hospital. 18th school shooting in U.S. this year. Shameful. on and for all of us.
Video Credit: Matt Walker/Snapchat pic.twitter.com/2ryCILI8Qa

— Bill Ritter (@billritter7) February 15, 2018
Just horrible….#RIP Stoneman Douglas High School Athletic Director Chris Hixon.
You will be tremendously missed and our prayers are with your family, your coaching staff, and your students.
God bless you! pic.twitter.com/cRTZl5rNsu

— National Throws (@nationalthrows) February 15, 2018
Nikolas Cruz a previous threat to the school:
Foreboding impending peril, upon hearing of a blitz of shooting, students feared the former student as the perpetrator following claims he'd been a potential threat to his classmates last year.
So heightened were concerns, Cruz at one point he was forbidden bringing a backpack to school.
Matthew Walker, a 17-year-old student at the school, told WFOR-TV that all his classmates 'knew it was going to be him.'
'A lot of people were saying it was going to be him,' he said. 'A lot of kids threw jokes around saying that he was going to be the one to shoot up the school. It turns out that everyone predicted it. That's crazy.' 
'He was going class to class just shooting at random kids,' he said. 'Everything he posts (on social media) is about weapons. It's sick.'
A report via the Miami Herald told of Cruz being expelled from the school for disciplinary reasons, while alluding to disturbing social media posts which appears to show the former student obsessing over guns, knives, violence, arsenal and even Arabic terrorism.
Florida school shooter January 5, FBI tip: 'We f*cked up' .
Florida school shooter bought AR-15 rifle three days after being expelled, cops visited home 39 times in 7 years
A life of depression: Did Nikolas Cruz mother flu death send shooter over the edge?
Photos: Florida school shooting victims cut down in their classrooms.
Florida white nationalist militia leader: 'Parkland school shooter was dedicated member'
NRA pulls Valentine Day 'buy your loved one a gun,' tweet after Florida school shooting
Photos: Florida teen girl and school track coach I'd as Florida school shooting victims.
Broward Schools Superintendent: 'We received no warnings on Nikolas Cruz'
YouTube user notified FBI after Stoneman Douglas shooter comment, 'I want to be a professional school shooter'
Parkland Florida shooer Instagram photos: 'Allahu Akbar' & 'I plan on getting this gun'
Why? Parkland Florida High Shooter I'd with seventeen dead and 50 injured
Stoneman Douglas student: We used to joke that Nicolas Cruz "would be the one to shoot up the school." At least 15 now confirmed dead. https://t.co/n8iEBKJRYL pic.twitter.com/KveyfPNRzx

— WSB-TV (@wsbtv) February 14, 2018
Nicholas Cruz a study of a disjointed youth obsessed with guns and violence.
A student, who was not identified, but claims to know Cruz told WSVN he was obsessed with guns and showed him pictures of them on his phone.
'He's been a troubled kid and he's always had a certain amount of issues going on. He shot guns because he felt it gave him, I guess, an exhilarating feeling.'
He added that Cruz made him nervous. 
'I stayed clear of him most of the time. My time in alternate school, I did not want to be with him at all because I didn't want to cause any conflict with him because of the impression he gave off.' 
Another student claimed Cruz having mental health issues that were 'ignored by all the adults'. 
'He literally had an Instagram where he posted pictures of animals he killed gruesomely and he physically assaulted one of my friends once,' the student said in a social media post.
The student also revealed Cruz's mother, Lynda Cruz often resorting to calling police to have them come to their home, 'to try to talk some sense into him.'
A report via the nytimes also told of Cruz upon leaving Douglas High School, taking a job at a Dollar Tree store about a mile and a half from the school. A person who answered the phone at the store on Wednesday evening said that Mr. Cruz worked as a cashier and was well liked by his colleagues.
'He was a great guy,' the person said.
Another student at Douglas High School, Ocean Parodie, told The Daily Beast that he visited the store after Mr. Cruz was expelled to check on him. 'He said he was expelled and was happy that he was thrown out,' Mr. Parodie said. 'I felt bad for him.'
Florida students describe fleeing as shots rang out #StonemanShooting https://t.co/FywC6pUHTV pic.twitter.com/eJaaEecEKl

— BBC North America (@BBCNorthAmerica) February 15, 2018
Clear photo emerges of #StonemanShooting suspect Nikolas Cruz (h/t @FranklinWSVN) pic.twitter.com/kjcdKMOUFP

— Josh Caplan (@joshdcaplan) February 15, 2018
19-year-old Parkland, Florida, school shooting suspect Nikolas Cruz has been charged with 17 counts of premeditated murder, according to sheriff's office https://t.co/8XEE7sNFoP pic.twitter.com/SC5whP8FbO

— CBS News (@CBSNews) February 15, 2018