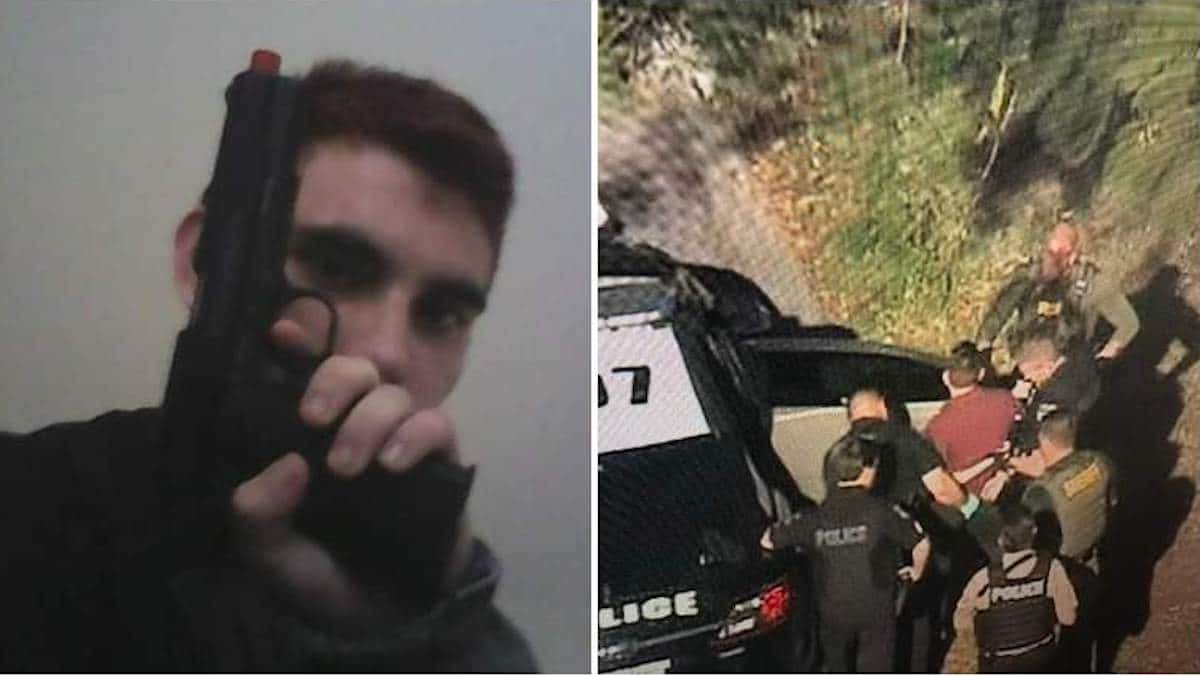 Nicolas de Jesus Cruz identified as Marjory Stoneman Douglas High shooter. How a former student with prior disciplinary issues took down his former school.
Nicolas de Jesus Cruz a 19 year old Florida man has been identified as the individual suspected of opening fire on a Florida high school on Ash Wednesday, leaving as many as seventeen dead and up to 50 injured.
Local reports told of Cruz a former student entering Marjory Stoneman Douglas High School in Parkland, Florida, armed with what appears to be an assault rifle, and began shooting at just after 2pm.
While reports of the amount of total amount of individuals killed or injured were developing, the chicagotribune cited sources saying that at least seventeen people had been confirmed dead. 
The mass shooting stopped after responding officers fired off a volley of gunshots, bringing the suspect down, who is understood to have sustained non life threatening injuries.
Nicolas Cruz was taken into custody as investigators now seek to understand what motivated the shooting at the Parkland Florida school.
Perhaps most disquieting is students indicating that they knew it would be Cruz.
Matthew Walker, a 17-year-old student at the school, told WFOR-TV that all his classmates 'knew it was going to be him.'
'A lot of people were saying it was going to be him,' he said. 'A lot of kids threw jokes around saying that he was going to be the one to shoot up the school. It turns out that everyone predicted it. That's crazy.' 
'He was going class to class just shooting at random kids,' he said. 'Everything he posts (on social media) is about weapons. It's sick.'
A report via the Miami Herald told of Cruz being expelled from the school for disciplinary reasons according to Broward County Sheriff Scott Israel during a press conference. Israel said they are examining disturbing social media posts they have uncovered.
Israel said the victims were killed inside the school, just outside and on a road nearby, with two victims dying at the hospital. The victims included students and adults. At least 14 victims were taken to local hospitals after the shooting at the Parkland school, the Broward County Sheriff's Office said.
Florida school shooter January 5, FBI tip: 'We f*cked up' .
Florida school shooter bought AR-15 rifle three days after being expelled, cops visited home 39 times in 7 years
A life of depression: Did Nikolas Cruz mother flu death send shooter over the edge?
Photos: Florida school shooting victims cut down in their classrooms.
Florida white nationalist militia leader: 'Parkland school shooter was dedicated member'
NRA pulls Valentine Day 'buy your loved one a gun,' tweet after Florida school shooting
Photos: Florida teen girl and school track coach I'd as Florida school shooting victims.
Broward Schools Superintendent: 'We received no warnings on Nikolas Cruz'
YouTube user notified FBI after Stoneman Douglas shooter comment, 'I want to be a professional school shooter'
Stoneman Douglas shooter planned maximum casualties
Nikolas Cruz Instagram photos: 'Allahu Akbar' & 'I plan on getting this gun'
According to CNN, an AR-15-style rifle was recovered by police.
UPDATE: Authorities have taken a subject into police custody in Marjory Stoneman Douglas High School pic.twitter.com/zhtXPDAjhE

— WSVN 7 News (@wsvn) February 14, 2018
Marjory Stoneman Douglas student on shooting suspect, 19-year-old Nick Cruz: "He would always have problems with every single one of his teachers. Every single teacher he ever had, there was a problem." https://t.co/1Y5NBGZMdE pic.twitter.com/4L56Ra6lLi

— CBS News (@CBSNews) February 14, 2018
Nicolas de Jesus Cruz a former US Army reserve training cadet.
Gunfire rang out at 2.25pm shortly before dismissal time, sparking panic as students barricaded themselves into their classrooms.
Others were seen running out of the building with their hands in their air as police and SWAT teams swarmed the school. Those fleeing the school, in single file, each threw their backpack into a large pile and huddled together under trees across the street.
At around 4pm, two hours after the shooter first opened fire, police and SWAT teams took Cruz into custody. Police describe him as a student and a former member of the U.S. Army Junior Reserve Officers' Training Corps program.
Video shows Cruz wearing a maroon or burgundy colored top as he was put in the back of a cruiser by half a dozens officers.  
Video, filmed from inside a classroom at the school, captured the moment the shooter, who was wearing a gas mask, burst in and began shooting at his fellow students.
The students sat or lay on the floor of the classroom, trying to avoid being hit, as rapid gunfire was fired off.
Desperate parents and relatives of students still locked down in the high school rushed to the scene to find out if their children were among the injured.
The shooter reportedly fled the building when police arrived mixing in with others students leaving the school. .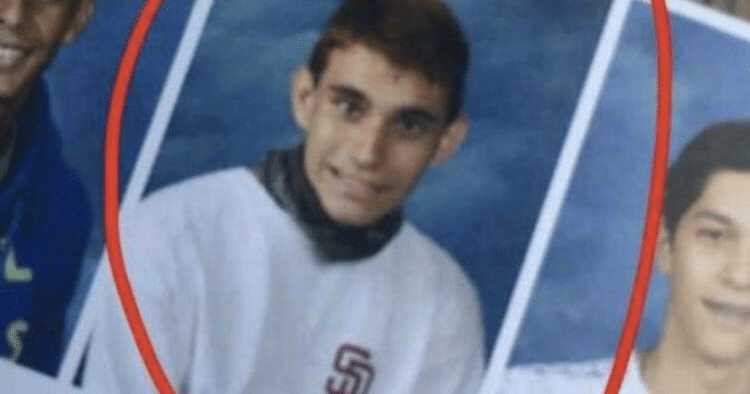 Nicolas de Jesus Cruz: Obsessed with guns.
A student, who was not identified, but claims to know Cruz told WSVN he was obsessed with guns and showed him pictures of them on his phone.
'He's been a troubled kid and he's always had a certain amount of issues going on. He shot guns because he felt it gave him, I guess, an exhilarating feeling.'
He added that Cruz made him nervous. 
'I stayed clear of him most of the time. My time in alternate school, I did not want to be with him at all because I didn't want to cause any conflict with him because of the impression he gave off.' 
The incident comes just a few weeks after a 15-year-old boy, Gabe Parker opened fire at his rural Kentucky high school, killing two and injuring more than two dozen others. 
Of note, Marjory Stoneman Douglas High School is in Parkland, cited as Florida's safest city last year.
Nicolas de Jesus Cruz is the name pic.twitter.com/6JmZNAf1So

— drooling joe #REDSTORM ??? (@chevyboy271) February 14, 2018
Suspected shooter identified as 19-year-old Nicolas de Jesus Cruz, after multiple injuries and deaths in Florida high school pic.twitter.com/KD7sG3Zmjy

— Breaking911 (@Breaking911) February 14, 2018
Apparently the school knew about him and he was NOT allowed to bring in backpack to school during his senior years! wow!
"Nicolas de Jesus Cruz" was member of "Resistance" groups on Facebook #Resist #Florida#Parkland#BrowardCounty pic.twitter.com/h6VRCqEW7N

— Ayn* (@AynRiedel98) February 14, 2018


19-year-old Parkland, Florida, school shooting suspect Nikolas Cruz has been charged with 17 counts of premeditated murder, according to sheriff's office https://t.co/8XEE7sNFoP pic.twitter.com/SC5whP8FbO

— CBS News (@CBSNews) February 15, 2018