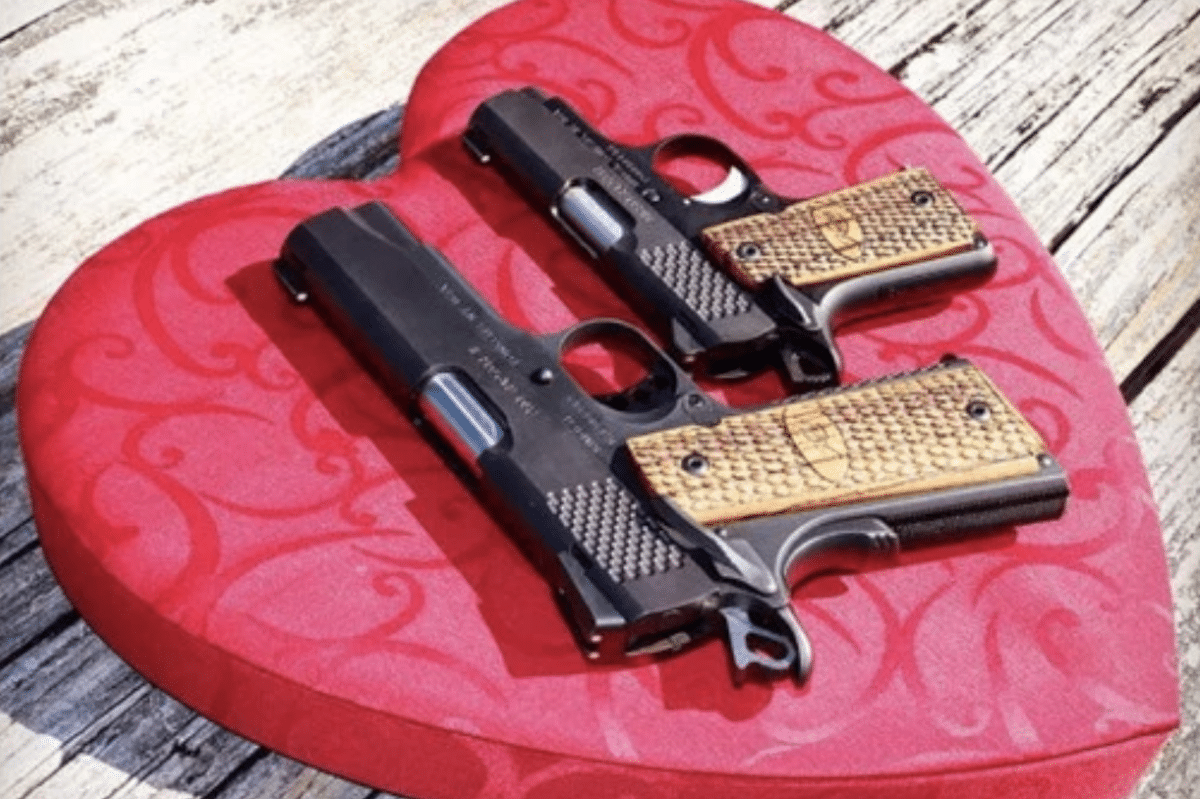 NRA pulls Valentine's Day gun tweet following recrimination of tone deaf post urging lovers to buy each other weapons. Debate over gun control and the NRA's role in suppressing the popular move.
At least they have the verve to appreciate that some things just really don't go. That is love and guns. Where as guns and death are very common place these days.
The above follows the NRA's decision (National Rifle Association) to pull a tweet the gun lobby had tweeted prior to Wednesday's Florida, Parkland mass school shooting which saw 17 individuals killed and 50 injured.
Read the tweet which was meant to encourage lovers to buy guns (why not, you might need it for the divorce one day….), 'Give your significant other something they'll appreciate this Valentine's Day.'
The tweet, reported the nypost was accompanied by an image of two guns set on a heart-shaped box.
What could be more heart rendering?
It didn't take long for the (by now….) offending image to be pulled from the Instagram account of Jim's Firearms of Florida.
Of question is whether the NRA yanked the retweet or if it disappeared because the account from which it originated, Kimber Firearms, pulled it.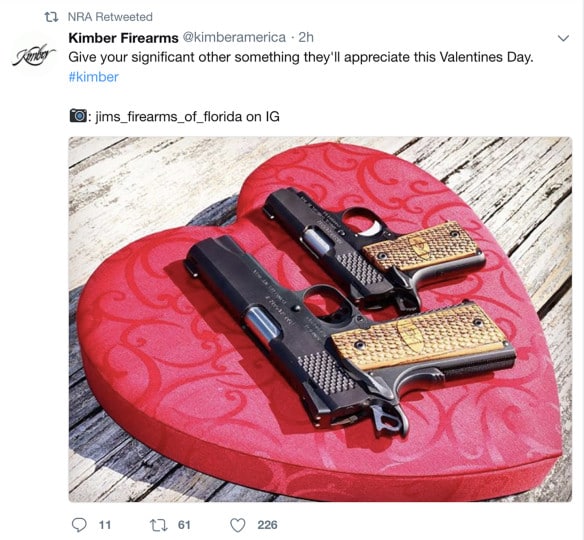 Igor Volsky of the Center for American Progress captured a screenshot of the semi-automatics resting on the pink heart.
'Earlier this morning, @NRA re-tweeted a tweet from a gun maker encouraging people to buy their loved ones guns for #ValentinesDay,' Volsky tweeted.
'Since the #schoolshooting in Florida they've deleted that tweet and have gone silent. Thankfully, I took a screenshot,' he added.
Silent being the operative word as the NRA has yet to publicly respond to the shooting which has once again renewed calls (as it does after every other mass shooting in America….alas) for gun control.
A point of discussion which consistently falls on deaf ears on Capitol Hill as lobbying money continues to hold politicians captive. Yes, perhaps it might be long time to drive money out of politics. A notion that would force lawmakers to pay more attention to the demands of the public at large before those with deep pockets (as it does in every other sphere of public policy, from education, health, pharmaceuticals, etc etc).
Throwing increasing shade on the NRA, an archived version of the gun rights group's Twitter account, as taken by the Wayback Machine, showed the 'buy your Valentine a gun' retweet live at 3:49 p.m. Wednesday — an hour following Wednesday's Marjory Stoneman Douglas High School shooting.
An NRA spokesman told CNN the poster was unaware of the massacre and quickly deleted the tweet.
Which is to wonder, what could be more offensive, falling asleep at the wheel while America's pandemonium airwaves wrestle with another mass shooting? Or ballsy notion that lovers ought to buy each other guns for Valentine's Day. Sorry NRA, I think I'll stick to buying my sweetheart a box of chocolates. But each to his own….
By 7 p.m., the NRA had deleted its retweet and the original post also was deleted.
Hooray!
Isn't it time you and your loved ones gathered around a box of pistols and handguns and lovingly gazed at each other's eyes and turned down the din of your TV set regaling yet another melodrama about innocent people being gunned down….?
Democrats propose renewing a form of the 1994 ban on assault weapons.
• https://t.co/9PR4zhSwe3

NRA sets its new record for campaign spending to protect assault weapons.
• https://t.co/eGuN3IeQYL

FBI investigates NRA/Russia money laundering.
• https://t.co/sf4K3LPtSJ pic.twitter.com/AUPe88qee9

— Puesto Loco™ (@PuestoLoco) February 15, 2018
Student reporter David Hogg at Marjory Stoneman Douglas High School spoke with his classmates while hiding from the deadly shooting: "I wanted to be a junior NRA member … now I can't even fathom the idea of a gun in my house." https://t.co/X550dpgA88 pic.twitter.com/T7s1uEieOk

— ABC News (@ABC) February 15, 2018
Kimmel writer responds to "thoughts and prayers" from GOP lawmakers by tweeting out their NRA cash: https://t.co/vdspjFaGxP pic.twitter.com/OS0jjQUHpj

— The Hill (@thehill) February 15, 2018
.@SpeakerRyan received $176,927 in campaign donations — the most of any member of Congress — from gun rights groups during the 2015-2016 campaign cycle and received an "A+" grade from the NRA. https://t.co/Y8EJPrCR5V #thoughtsandprayers https://t.co/kIys7mgAeP

— New York Daily News (@NYDailyNews) February 15, 2018
Here are Congress members who have been bought by the #NRA-it's time to hold them accountable for their failure to protect our kids AND VOTE THEM OUT. #GunReformNowl https://t.co/TKPg8W5uso pic.twitter.com/Y3u68BsFlc

— Amee Vanderpool (@girlsreallyrule) February 15, 2018