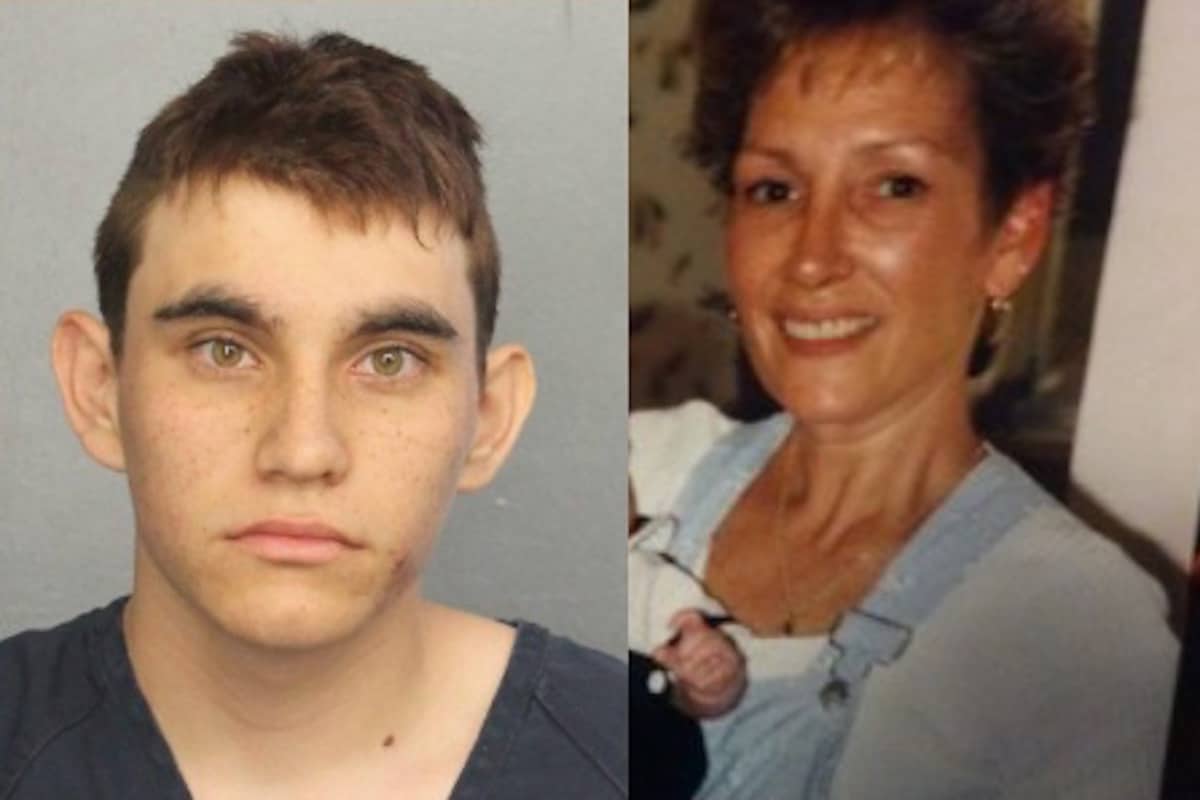 Did Lynda Cruz, the mother of the Florida school shooter send her son over the edge? A life grappling with depression, autism, anti social behavior and solace in guns and violence. 
In the aftermath of Nikolas Cruz fatally shooting 17 individuals and injuring 15 others at a Florida high school, a disquieting portrait of a family in dysfunction has emerged. A bundle of sore nerves that could no longer be contained once the shooter's mother, Lynda Cruz died three months ago. 
Following Wednesday's mass shooting, speculation has mounted that Cruz was sent over the edge with the recent passing of his single mother, Lynda Cruz, from complications from the flu in November.
Cruz's mother's death comes as one of escalating chapters of disappointment in the 19 year old teen's life.
Reports tell of the shooter who made his way into his former school, Marjory Stoneman Douglas High in Parkdale, bearing antipathy towards fellow classmates and teachers alike.
From the ex girlfriend who left him to the teen's new boyfriend and towards teachers who disciplined the unruly student who increasingly betrayed anti social and hostile tendencies. So hostile that at one point the former student was banned from arriving to school with a backpack for fear he might be packing ammunition.
A report via ABC News told of Cruz and his younger brother, Zachary being adopted as infants by Roger and Lynda Cruz, but Roger died from a heart attack a decade ago, leaving Lynda to raise the boys herself, according to family.
Lynda, 68, checked into a clinic with the flu and was rushed to a hospital, where she died Nov. 1 of pneumonia, told cousin Kathie Blaine. 
She was otherwise healthy before checking into the hospital, the cousin told the network.
'Lynda was very close to them,' sister-in-law Barbara Kumbatovic told the Washington Post. 'She put a lot of time and effort into those boys, trying to give them a good life and upbringing.'
Adding, 'I don't think it [the massacre] had anything to do with his upbringing. It could have been the loss of his mom.'
She recalled how Nikolas once sicced his dog on a neighbor's pig — and how Lynda tried to discipline the boy but may have fallen short.
'He sent over his dog . . . to try to attack them,' Kumbatovic said. 'Lynda dealt with it like most parents did. She was probably too good to him.'
Nikolas Cruz placed on suicide watch after first court appearance for Florida shooting https://t.co/zl8FRgnxsv pic.twitter.com/yY9zxHnTyJ

— The Independent (@Independent) February 15, 2018
Nikolas Cruz progression of anti social behavior and mood swings. 
By now, Nikolas Cruz, was especially moody, prone to an explosive temper and seeming to delight in torturing animals and provoking everyone else on the block.
Reported the washingtonpost, 'He killed squirrels with a pellet gun. He stole neighbors' mail. He tried to get his dog to attack and bloody the pet piglets being raised in the house across the street. He picked fights with other kids constantly, biting one kid's ear. He threw rocks and coconuts, vandalized property.' 
Residents said they called police constantly. Every other week, it seemed, police cruisers would pull up to the house to sort out the latest complaint.
Over the past year, Cruz was expelled from school for disciplinary problems. Many of his acquaintances had cut ties in part because of his unnerving Instagram posts. His mother, among the only people with whom he was close, died around Thanksgiving. He was living at a friend's house. He was showing signs of depression.
By now, Cruz had immersed himself in his private world, where pain and torment were circumvented by his own ability to impart pain and hurt on others.
The media is coming up with every excuse imaginable to justify not showing the white supremacist terrorist #NikolasCruz in a negative light pic.twitter.com/NE69kCu7d5

— Tariq Nasheed (@tariqnasheed) February 15, 2018
Nikolas Cruz family didn't see it coming. Perhaps nothing mattered after Lynda Cruz, the one solid feature in the teen's life passed away. 
An anonymous family member went on to tell the Sun-Sentinel that Nikolas had been diagnosed with autism.
'I know he did have some issues and he may have been taking medication. [He] did have some kind of emotional problems or difficulties,' Kumbatovic also told the paper.
After the unexpected death, the brothers briefly moved in with friends in Palm Beach County, but Nikolas left shortly afterward when a friend's family said he could stay with them in northwest Broward County, the Sun-Sentinel reported.
He had already been expelled from Stoneman Douglas — where his friend still attended school — and the family encouraged him to take adult education courses and helped him get a job at a local dollar store, according to family attorney Jim Lewis.
'The family is devastated, they didn't see this coming,' he said, according to the Sun-Sentinel. 'They took him in and it's a classic case of no good deed goes unpunished. He was a little quirky and he was depressed about his mom's death, but who wouldn't be?'
Nikolas already owned the AR-15 assault rifle he allegedly used in the massacre when he moved in with the family, and they made him keep the weapon in a gun safe, CNN reported.
The family handed over the safe keys to investigators, the media outlet reported. What led to the 19 year old teen, come Wednesday afternoon removing the weapon from the safe and forever changing the lives of his victims, their friends and family remains unknown….
Florida school shooter January 5, FBI tip: 'We f*cked up' .
Florida school shooter bought AR-15 rifle three days after being expelled, cops visited home 39 times in 7 years
Photos: Florida school shooting victims cut down in their classrooms.
Jordan Jereb Florida white nationalist militia leader: 'Parkland school shooter was dedicated member'
NRA pulls Valentine Day 'buy your loved one a gun,' tweet after Florida school shooting
Photos: Florida teen girl and school track coach I'd as Florida school shooting victims
Nikolas Cruz Instagram photos: 'Allahu Akbar' & 'I plan on getting this gun'
Broward Schools Superintendent: 'We received no warnings on Nikolas Cruz'
YouTube user notified FBI after Stoneman Douglas shooter comment, 'I want to be a professional school shooter'
Stoneman Douglas shooter planned maximum casualties
Why? Parkland Florida High Shooter I'd with seventeen dead and 50 injured