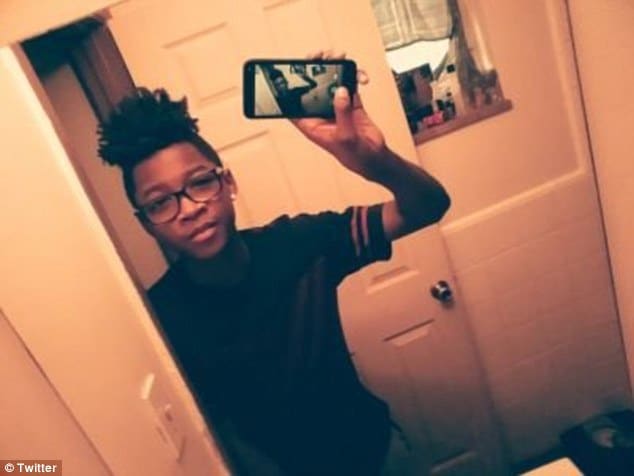 How DaMontez Jones' fascination with the perfect selfie led to his inadvertent death at home. The latest death at the hands of taking selfies. 
DaMontez Jones a 15 year old Overland, Missouri teen has accidentally shot himself to death after posing for a selfie with a loaded gun.
The teen's death came whilst at his mother's home 7.30pm Friday, while 'playing' with a firearm owned by his mom's finance, which the boy allegedly found loaded, with the safety latch off.
A report via the  St. Louis Post-Dispatch told the teen's older brothers, 16 and 17, and a younger half-sibling, were in another room when the gun went off. 
Told the teen's father, Dennis Jones Sr., 34, who lives separately from the boy's mother: 'They said he was trying to take a picture and it went off.'
A police report told of DaMontez Jones suffering a gunshot wound to his upper-right chest and rushed from the home on the 9500 block of Page Avenue to a hospital, where he died.
Jones told the Post-Dispatch that DaMontez found the gun on the top shelf of a closet in the home belonging to DaMontez's mother and her fiance. He said it was not secured, or even in a box.
No adults were at home when the shooting took place. 
How or why the gun came to be at the home is not necessarily understood. Also not understood is if the gun was legally licensed along with whether family members now face charges?
One more photo? Chinese walrus drowns man taking selfie along with zookeeper
Washington idiot taking selfies with gun fatally shoots self in face
Peacocks die after idiot crowd Chinese zoo selfie
Argentina dolphin dies after carried on beach for selfies
Chinese man poses for selfie with girlfriend's corpse after murdering her
Mexican medical student kicked off course after taking selfie next to dying woman
Rattlesnake selfie costs Todd Fassler $150 000 in medical bills
Idiot Russian woman taking selfie with gun accidentally shoots self in head.
Overland Police Lt. Steve Branham said the fiance worked as a security guard and that they are trying to confirm ownership of the weapon.
Leading authorities to believe that DaMontez Jones' death was self inflicted, authorities explained that the proximity of the teen's phone led police to lean towards the selfie theory.
'(DaMontez) had a cell phone found next to him,' Branham added.
The cop added that the phone wasn't working, but was being sent to a police lab to check for photos. 
'We're pretty solid in that theory but will go the extra mile to see if there are pictures there,' he said.
He also said that the gun owner could face charges such as child endangerment, once their identity was confirmed – but said that if the owner was indeed one of Jones's guardians, it was unlikely they would be prosecuted.
Told the cop via the dailymail: 'Ultimately it's the prosecuting attorney's decision, but in my opinion they're unlikely to press charges as they'll probably say the parents have been punished enough.'
A regard of DaMontez Jones Facebook page showed the teen to be an enthusiastic selfie-taker, having taken and posted more than 30 photos of himself over the past year. 
The only images with guns are a pair of cartoons from March last year.
Diane Jones, the boy's paternal grandmother, told the Post-Dispatch that DaMontez – who went by the nickname 'Tez' – was 'real smart,' frequently attended church, and enjoyed playing golf. 
He also loved hockey and rock 'n' roll, his dad said, and had just finished his freshman year at Ritenour High School.
The father's loss of his son had made him realize two things: 'Parents should spend more time with their kids, and if they have guns in the house, put a lock on the gun. Police give them out for free.'
Anna Ursu photos: Idiot Romanian teen taking ultimate selfie electrocuted to death
Oregon man posing for selfie hit and killed by Amtrak train.
Sylwia Rajchel falls to her death whilst taking the perfect selfie on top of bridge
Isabelle Fracchiolla, Italian girl plunges to her death while taking selfie on cliff
Oh really? Oscar Otero Aguilar accidentally shoots self dead taking selfie