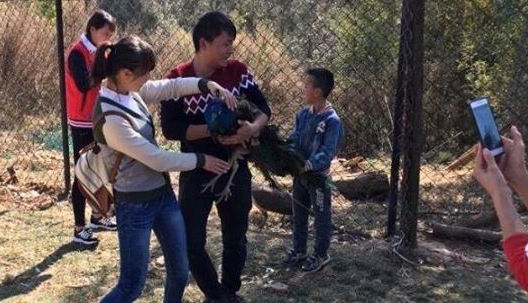 Mayhem after Peacocks die Chinese zoo selfie
Two peacocks have died at Yunnan Zoo in Kunming, China after eager violent tourists scrambled to take selfies with the colorful birds on show.
As the flock took to unabashedly having their pictures taken with the birds (cause the shinier and cuter will always make my Facebook page smile), clutching and pulling at the birds, the merciless crowd ended up causing the peacock's feather being plucked out. In turn, causing the birds to go into shock and subsequently die.
A spokesperson for the Yunnan Zoo said that something like this had never happened there before, but workers had specifically told visitors not to touch the peacocks — a command which was clearly ignored.
According to zoo officials, the flock of zoo goers were able to lure the peacocks with food and then grab them by their tails, where they excitedly began taking selfies.
Smile at me, you are my new amazing accessory and my unwitting social media star.
One of the birds, a 5-year-old male, died on February 12, the zoo confirmed.
The peacocks deaths in turn led to a flurry of comments on social media, where users contemplated the savagery and stupidity.
Told one user: 'Without the zoo's permission, who is allowed to hold the peacocks for photos?' [People] have to pay to take intimate photos with animals!'
Another person wrote: 'Why are tourists allowed to have close contact with the wild animals in the zoo?'
A third person wrote: 'China must set up a database and prevent such low-quality visitors from entering tourist attractions.'
The incident follows that of a similar incident in Argentina last week, in which a group of people took to pulling out a rare dolphin out of the sea in a bid to take selfies/photos with it. That incident led to the dolphin dying of dehydration as it remained out of water and on shore.