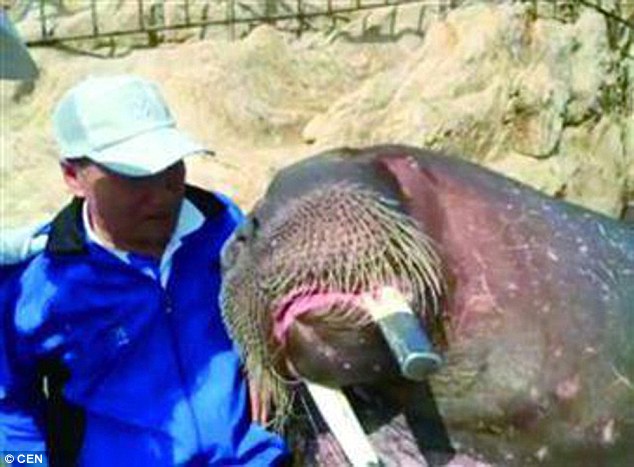 Chinese walrus drowns man taking selfie: Was one businessman's drowning death just an accident or a walrus getting revenge?
A businessman taking several selfies with a walrus at Yeshanko Wildlife Zoo in the Chinese city of Weihai has drowned along with a zookeeper who had sought to rescue the drowning man.
After allowing the businessman, Jia Lijun to take videos, photos and several selfies, the female walrus 'playfully' dragged the man into the pool, drowning him.
A zookeeper, who had taken care of the walrus for over 10 years, tried to rescue the man but was also drowned reported People's Daily Online.
At the time of the incident, the one and half tonne walrus had dragged the unsuspecting businessman from behind.
According to onlookers, the walrus clung to the man from behind and dragged him to the pool of water, submerging him and swinging him around.
The animal's keeper surnamed Duan found some bamboo sticks to try and rescue the man however it didn't go to plan.
He then decided to enter the pool.
It was at this moment that the animal released Jia and rushed towards Duan.
While zoo authorities in the northeastern province of Shandong declined to comment on the businessman's death, sources said the walrus only wanted to 'play' with both men and give them a 'hug'.
Or did it?
According to a report via news.com.au the family of the businessman, who jumped into the enclosure, bereft of barriers, to take selfies with the walrus, has since sought compensation from the zoo.
In their claim, the family who first found out about selfie taker's death on May 11, argued that the zoo failed to provide adequate safety precautions, a sentiment that was echoed on Chinese social networking sites.
Told a close family member: 'My brother didn't fall into that pool, he was dragged by the beast. Large wild animals aren't predictable, even if they are normally calm.'
Conceding culpability, the zoo offered $137,500 to the victim's family in compensation.
A friend of Jia, surnamed Wu, said the businessman had been very excited about meeting the walrus and had sent many photos and videos to friends.
Wu was a recipient of the videos.
Told the man via local media: 'Who would have thought that at three o'clock he would send me a video, talking and laughing and just a few minutes he was drowning in the water.' 
Commentators on social media remarked that given the lax safety measures to protect both the walrus and visitors, this incident was a long time coming.
Meanwhile, several netizens have posted photos they have taken standing next to giant walruses after which, they said, they didn't come to any harm.