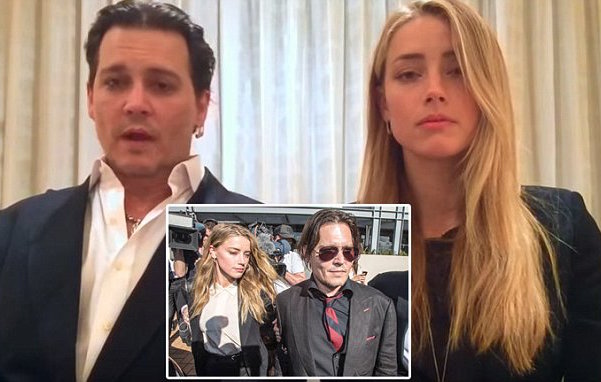 Johnny Depp divorce: How the couple's 15 month relationship was doomed from the beginning. Ongoing signs have been in the making.
Johnny Depp's wife of fifteen months Amber Heard, 30 on Monday filed for divorce from the actor, citing 'irreconcilable differences,' along with seeking spousal support.
The divorce between the pair looks to be a nasty affair as the 52 year old actor who is said to be worth circa $400 million and owns a private island in the Bahamas countered, filing his own legal documents asking the judge to reject his estranged wife's request for maintenance.
Vexing matters according to a source via  TMZ is the fact that the couple do not have a prenup.
The break up of the couple's marriage comes after first meeting in 2009, while hey were both working on the film The Rum Diary. They began dating in 2012, around the time Depp ended his decade-long relationship with French actress Vanessa Paradis.
Told Depp one time about how the pair came together after wrapping up shooting: 'She was in my head, so I tracked her down.'
Underscoring possible tension between the couple was the ongoing year long fracas involving Depp's wife illegally smuggling their Yorkshire terriers, Pistol and Boo into Australia. An incident which led to the couple appearing in Australia last month where Heard was let off with a one month good behavior bond and a $1000 fine.
Is Amber Heard lying for money? Cops saw no black eye marks
'He offered to pay me hush money' Johnny Depp domestic abuse. Amber Heard files restraining order
Amber Heard Johnny Depp divorce: 'What am I doing with this fat old man?'
#JohnnyDepp's dog days: Amber Heard files for #divorce from star actor #TenNews https://t.co/RzNV0deJUL

— Hugh Riminton (@hughriminton) May 26, 2016
Hints that things may have been off between the couple may have come as recent as April 22 when people reported the actress/model 'partied' with a group of girl pals at a Palm Spring resort, where conspicuously absent was Johnny Depp.
Further hints also came in January whilst receiving an award at  the Palm Springs International Film Festival, where Johnny Depp thanked Amber in his speech 'for putting up with me, for living with all these characters, which can't be easy.'
'It's hard for me. It's got to be hard for her,' the actor quipped.
How exactly the actor was necessarily 'hard to put up with' wasn't necessarily understood, that said the actor has in the recent years has made recent shows of being publicly intoxicated to the point of no return, to the extreme mortification of the actress.
States of being which could also mirror the actor's continuing deteriorating physical appearances as commentators on the web have noted the actor's loss of his once fine features, dark circles under his eyes and a more portly appearance.
'We're still above the law' Johnny Depp and Amber Heard apology video
Amber Heard charged with Johnny Depp dog smuggling: Am I going to jail?
Johnny Depp faces ten years jail for smuggling dogs to Australia.
How lesbian Io Tillet Wright came between Johnny Depp and Amber Heard
Johnny Depp drunk. Amber Heard may break up now
Video: Amber Heard nude cell phone leaked. Sexy talk to lover
(NSFW) The Fappening 3: Amber Heard Naked. New images released.
(NSFW) Amber Heard naked leak pictures via 4chan too?
Johnny Depp and Amber Heard on the outs cause the press ruined it for them.
Vanessa Paradis calls Amber Heard a man stealing nobody for dating Johnny Depp.
Amber Heard filed for divorce from Johnny Depp, always wonder what the mega rich disagreed on where divorce was the only option

— Chad Johnson (@ochocinco) May 25, 2016
Bummed to hear about his divorce, but I'm relieved Johnny Depp can finally be alone with his spiders.

— Jensen Karp (@JensenClan88) May 26, 2016
Does Johnny Depp get his hotness back in the divorce settlement?

— Carsen (@carsenonair) May 25, 2016
Also underscoring subtle dissonance were comments Amber Heard made back in June 2015, in her first interview since her high-profile marriage, where she told Elle: 'Nothing is a dramatic change. We've been together for a long time now, so it's been a fairly organic process,' and adding: 'I have a fiercely independent spirit.'
When pressed further, she said of her husband: 'I fall in love again and again.'
At the time, the actress was embroiled in rumor that Depp had taken exception to her 'friendship' with gay photographer Io Tillet Wright.
In November, Amber Heard told the December issue of Marie Claire magazine that everything was fine in her marriage, despite persistent rumors which by then had begun to make the rounds.
Prior to their relationship, Heard came out as bisexual at a GLAAD event in 2010, stating at the time that 'I don't label myself one way or another — I have had successful relationships with men and now a woman. I love who I love; it's the person that matters.'
News of the divorce as Depp this week makes the rounds of the promotional trail as his latest movie, Alice Through The Looking Glass, is released in US cinemas tomorrow. It's unclear at this stage whether news of the couple's breakdown will affect his promotional commitments for the film.