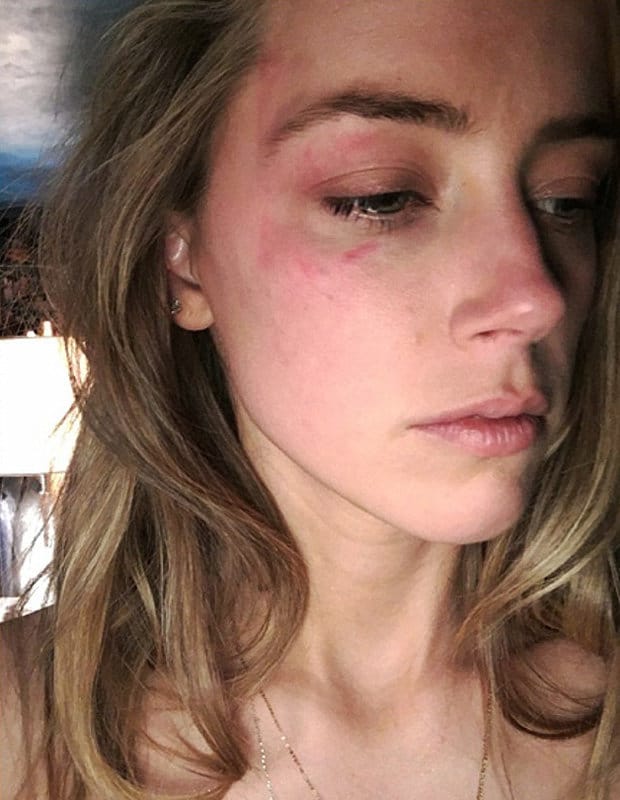 Johnny Depp domestic abuse. Amber Heard files restraining order. Estranged wife had been exposed to ongoing violence as the actor's reputation risks being destroyed.
Things have gone from bad to worse as estranged wife of Johnny Depp, Amber Heard has now filed a restraining order against her ex accusing Depp of domestic violence in a California court filing.
Appearing at the Superior Court of California County of Los Angeles, along with her lawyer, Samantha Spector, the model/actress filed for a domestic violence restraining order.
During her filing, Heard supplied damning photos in which she alleged Depp injuring her, including one photo which shows her with a large bruise around her eye.
The incriminating image according to a report via TMZ comes after Depp allegedly hit Amber Heard in the face with his I-phone, with Depp's wife fleeing when police arrived on the scene.
But it gets more damning.
Amber Heard Johnny Depp divorce: 'What am I doing with this fat old man?'
Johnny Depp divorce: Why did Amber Heard want out?
Amber Heard leaves court after being granted a restraining order against husband Johnny Depp https://t.co/5iq8Fm6gg0 https://t.co/cRPHsLBR4l

— Sky News (@SkyNews) May 27, 2016
Amber Heard leaves court bruised after a judge grants Johnny Depp's restraining order. https://t.co/638Ee1fVlA pic.twitter.com/2Dbyrl7p9e

— E! News (@enews) May 27, 2016
According to Heard, Depp offered her money in order to keep the incident quiet, but instead decided to file for divorce that Monday.
According to a source via a report via People, the couple are said to have had similar skirmishes in the past, with the source alleging that Heard has a video of Johnny Depp beating her.
Reacting to the restraining order filing against Johnny Depp a legal rep issued a statement telling: 'Given the brevity of this marriage and the most recent and tragic loss of his mother, Johnny will not respond to any of the salacious false stories, gossip, misinformation and lies about his personal life.
'Hopefully the dissolution of this short marriage will be resolved quickly.' 
Heard filed for divorce on Monday, days after the death of Depp's mother Betty Sue Palmer, who passed away last Friday. 
TMZ reports that Depp 'shattered various objects' during the incident on Saturday, which occurred at the couple's apartment.
Heard was on the phone with a friend during the alleged fight and when Depp began to pull her phone away from her she told the person on the other line to call the police.
Depp was gone by the time they arrived but investigators did take a statement from Heard and write up a report. 
The latest developments come as Amber Heard filed for divorce after just 15 months of marriage, citing irreconcilable differences as the reason for the split in her petition.
She also asked that she be granted spousal support.
Depp responded to Heard's petition on Wednesday asking that the court rule he should not be required to pay spousal support and requesting that his estranged wife pay her own attorney fees. 
The latest developments risks to sink Johnny Depp's latest project as he sets about promoting his new film, Alice Through the Looking Glass, released today. Yet more ominously, the latest revelations also risk to tank Johnny Depp's entire career….
How can people still say that amber heard is lying for money and johnny depp is innocent pic.twitter.com/Rf1NAkJf7Y

— alex (@jenniferIwrnce) May 27, 2016
Johnny Depp + Amber Heard = pic.twitter.com/DlkgkciYLX