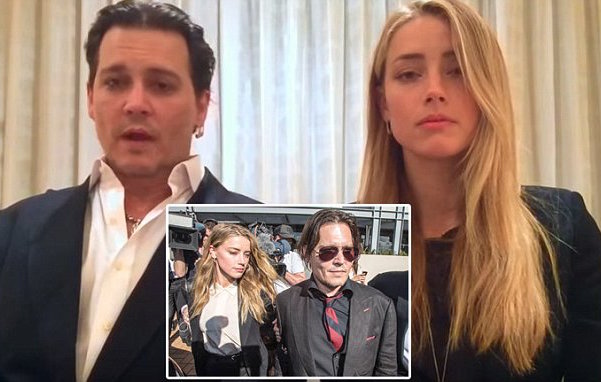 Amber Heard Johnny Depp divorce: A source reveals that the couple's marriage was on the rocks from day one as problem after problem piled on.
Speculation has gone into overdrive as to what may have led to Amber Heard and Johnny Depp's marriage falling apart just on fifteen months with Heard filing for divorce earlier this week.
While the couple are in for a tug of war over Johnny Depp's $400 million assets (with no prenup) after Heard filed for maintenance support while Depp counter filed to block the measure, new revelations are telling that the couple's marriage fell apart just 3 months in after tying the knot in February of 2015.
According to a source via pagesix, Depp, 52 and Heard, 30 were already experiencing 'teething problems' with each other, just three months into the marriage, but for the sake of their marriage and avoiding being a laughing stock decided to give their marriage one more year.
Is Amber Heard lying for money? Cops saw no black eye marks
'He offered to pay me hush money' Johnny Depp domestic abuse. Amber Heard files restraining order
Johnny Depp divorce: Why did Amber Heard want out?
Part of what may have undone the couple is what a source told the tabloid was the actor's reticence with his new wife's fascination for the party scene and the LA scene which the actor in another lifetime had already gone through.
Reports pagesix: Sources close to the former couple told Page Six that grizzled star Depp quickly grew tired of Heard's enchantment with Hollywood glitz. "Their relationship turned sour almost immediately. She's really young and affected by the industry and 'the scene' at times," said an insider, adding, "Don't get me wrong; she's a cool chick, but Johnny doesn't tolerate that."
Also complicating matters was Heard bisexual past, with the actor feeling increasingly threatened by her 'gal pal' friends, including Amber Heard's close friendship with photographer Io Tillet Wright, an activist in the gay and lesbian community, whose presence was causing drama in the couple's marriage.
Things came to a head when Depp demanded Wright who by then was staying at the couple's guest move out, after sourced revealed last April that Depp 'doesn't like Io' and believed they 'were spending too much time together for it to be comfortable.'
In a bid to 'watch over' his new wife, Depp began demanding that Heard increasingly spend more time with him, going so far as to fly her in when he started filming for the latest chapter in the Pirates of the Caribbean film series, then being shot in Australia.
Told the source: 'He started making her travel with him,' adding, 'and she started distancing herself from her lesbian friends.'
While closer time in Australia was suppose to augment the couple's relationship, it did anything but when Heard insisted on illegally bringing along her two terriers, Pistol and Boo — a drama that ended with a much-mocked video in which the couple awkwardly apologized. '[It] made him look so stupid and it was her fault,' sniffed another source.
Meanwhile, hard-partying and-working Depp is beginning to show his age. Another insider said, 'Amber was like, 'What am I doing with this old man who used to look like Johnny Depp?''
Comments which have been echoed over and over on social media as zealous fans begin to wonder what led to Johnny Depp letting himself go, and to what degree his 'partying' and idiosyncratic mannerisms (he is after all a living legend) may have alienated his much younger wife….
Amber Heard charged with Johnny Depp dog smuggling: Am I going to jail?
Johnny Depp faces ten years jail for smuggling dogs to Australia.
How lesbian Io Tillet Wright came between Johnny Depp and Amber Heard
Johnny Depp drunk. Amber Heard may break up now
Video: Amber Heard nude cell phone leaked. Sexy talk to lover
(NSFW) The Fappening 3: Amber Heard Naked. New images released.
(NSFW) Amber Heard naked leak pictures via 4chan too?
Johnny Depp and Amber Heard on the outs cause the press ruined it for them.
Vanessa Paradis calls Amber Heard a man stealing nobody for dating Johnny Depp.
The Mail's extensive fat shaming of Johnny Depp is not quite the realisation of gender equality I'd always hoped for.

— Hadley Freeman (@HadleyFreeman) May 26, 2016
"you're 52-years-old, Johnny Depp & it's time to start acting like it – before you turn into a fat old lonely weirdo like your hero Brando"

— [Mackenzies] (@Interpanic) May 26, 2016
***NEW COLUMN****
Time to grow up Johnny Depp or you'll end up like your hero Brando – a fat old lonely weirdo.https://t.co/wJEyQMaxBM

— Piers Morgan (@piersmorgan) May 26, 2016
Johnny Depp. Another vain Hollywood dickhead who thought he was above the law. But now just fat old prick like the rest of us.

— Mark Textor (@AGFchairman) May 26, 2016
Poor old #JohnnyDepp is turning into a fat arrogant old bastard – move over Gerard Depardieu!

— Carcassonne LaCrotte (@Crottebuster) May 9, 2016