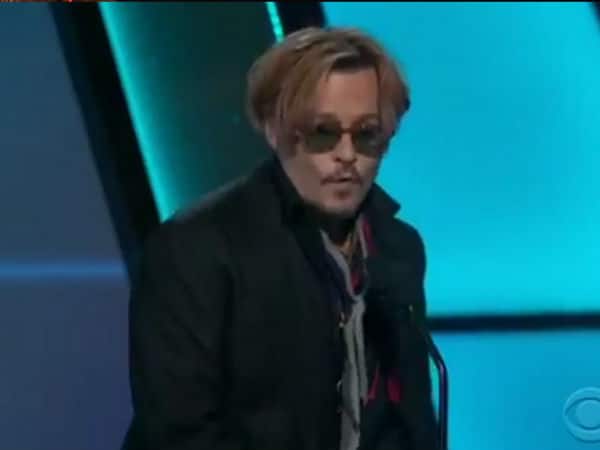 Seems like there might be trouble in the romance department between Johnny Depp, 51 and his nubile finance, Amber Heard after suggestions over the weekend that the actress was highly mortified by Johnny's recent drunken performance at the recent Hollywood Film Awards.
Video: Amber Heard nude cell phone leaked. Sexy talk to lover
(NSFW) The Fappening 3: Amber Heard Naked. New images released.
(NSFW) Amber Heard naked leak pictures via 4chan too?
Johnny Depp and Amber Heard on the outs cause the press ruined it for them.
Vanessa Paradis calls Amber Heard a man stealing nobody for dating Johnny Depp.
Concerned that her heart throb fiance might be back on the party wagon (which Johnny unabashedly admits a penchant for) the actress (who has her own very public spectacle of naughty image to contend with)  is believed to be considering whether to continue going forward with Johnny after repeated attempts on her part to get Johnny Depp to put the good booze and accoutrement s away. But will he and will Amber continue to stick around if Johnny doesn't buckle down?
Told a source via Dec. 1st edition of Star Magazine: 'This reflects really badly on her, and she's not happy about it.'
In a sign of how committed Johnny is to the good times, the actor previously told in a 2013 interview with Rolling Stone about his love affair with the good shit: 'I investigated wine and spirits thoroughly, and they certainly investigated me as well, and we found out that we got along beautifully, but maybe too well.'
Indeed.
That said the actor professed to have purportedly staying the straight and narrow course:
'I don't have the physical need for the drug alcohol,'
'No, it's more my medication, my self-medication over the years just to calm the circus. Once the circus kicks in, the festivities in the brain, it can be ruthless.'
But Johnny did let this one out of the bag: 'I just decided that I pretty much got everything I could get out of it.'
But has he? There's now talk that Johnny might be forced to seek rehab if he is to hold on to Amber Heard who is said to have confronted Johnny with the issue of his drinking problem. Whether Johnny considers his partying ways to be a problem or not though is up for debate.
Continued the source: 'There's a chatter in Johnny's camp about rehab.'
Told a source via radar previously: 'Johnny was so wild for so long and it's hard to believe that Amber has straightened him out completely.'
Adding: 'People are afraid that he's just stopped partying or is hiding his partying to be a good and upstanding guy for Amber.'
Upstanding indeed.
The $69 million question now is will Johnny get his shit together or will he continue driving Amber away?