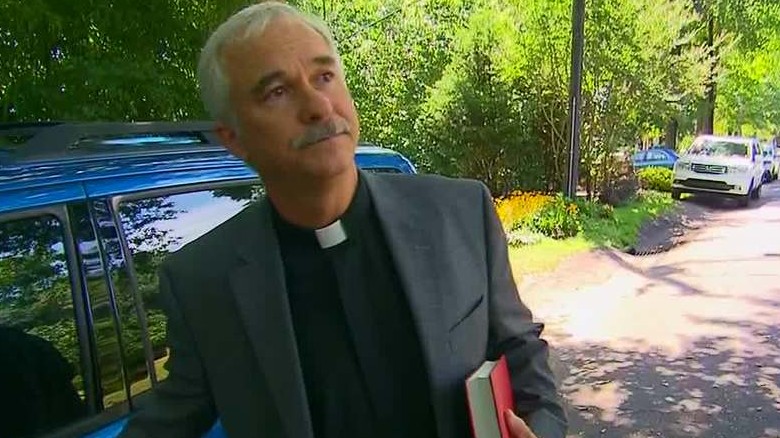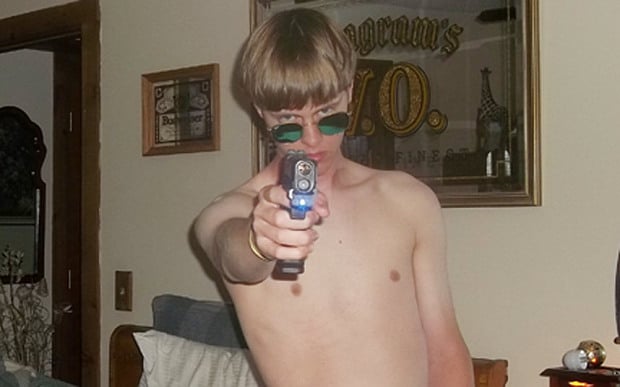 It has been reported that Charleston shooting suspect, Dylann Storm Roof is a devout Christian who was baptized as a Lutheran and regularly attended Church services.
In an exclusive with the dailymail, Rev Tony Metze of the St Paul's Lutheran church in Aiken, South Carolina, who Dylann Roof is a member has revealed of the sorrow and heart ache in the wake of last Wednesday night's massacre.
Dylann Roof's love interest dated black man and seeking revenge
Franklin Bennett Roof receives Black Panther Party threats: 'We're coming to see you'
Christon Scriven: 'Dylann Roof planned to shoot up college campus. I hid his gun.'
Dylann Roof's racist manifesto found: Niggers are stupid and violent.
Dylann Roof nearly abandoned shooting cause his victims were nice to him
Told the Pastor to the Sunday congregation who had gathered yesterday, including Dylann Roof's father, Franklin Roof  and his step sister and grandparents:  'Our hearts have been pierced…he was one we have known.'
Said to have repeatedly asked the congregation: 'Do you care?'
'Does God care?' before answering: 'He does'.
From there the names of each of Wednesday's victims were each read out, as attendees attempted to make sense of what one of their own had carried out, ironically against two victims who were also said to be Lutheran, Rev. Clementa Pinckney and the Rev. Daniel Simmons.
Whilst reports have indicated that Roof came to be raised in a fractured broken home with a frequently missing and violent father, Franklin Roof and his family have insisted that Dylannwas 'raised right' and that he had learned his Catechism as a young boy.
Adding that Dylann's upbringing was steeped in the church and he was baptized into the faith, went to church camp and regularly attended worship.
The suspect's father also told attending church twice a week, with Sunday the first chance since the shooting on Wednesday night that he had to pray with his regular congregation.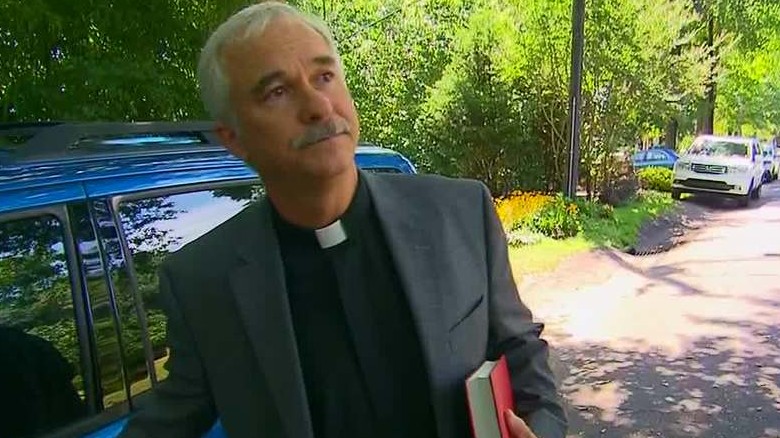 In an interview with the tabloid, Pastor Metze said: 'I continue to do with the Roofs what I was trained to do, which is to love the family, pray for them and hug them.
'We pray for the families that have been so deeply hurt at Emanuel AME in Charleston.
'We struggle to face this awful awful evil but try to find strength in prayer together.
'It is an absolutely horrible, horrible crime that will mark this family. They are trying to stand tall and rest on their faith.'
The priest would also say that Dylann's transformation from a church going boy to an alleged racist multiple murder could have happened because 'evil is so mysterious and so strong'.
Adding: 'How can anyone murder and kill in cold blood at any time, but when people are in a house of prayer and worship? It's a senseless act of violence'.
Did Dylann Storm Roof commit terrorism? The peril of calling a hate crime terrorism
Dylan Roof: 'I want to start a civil war then kill myself'
Charleston shooting victims identified: 'I will truly miss you my love'
Tywanza Sanders videos Dylann Roof before being shot dead
Dylann Roof boasted planning massacre: I am looking to kill a bunch of people
Dylann Storm Roof drug addict and proud racist.
Dylann Storm Roof drug addict and proud racist.
Who is Dylann Roof? Got a shotgun for his 21st birthday
Dylann Storm Roof pictures. Identified as the Charleston shooter