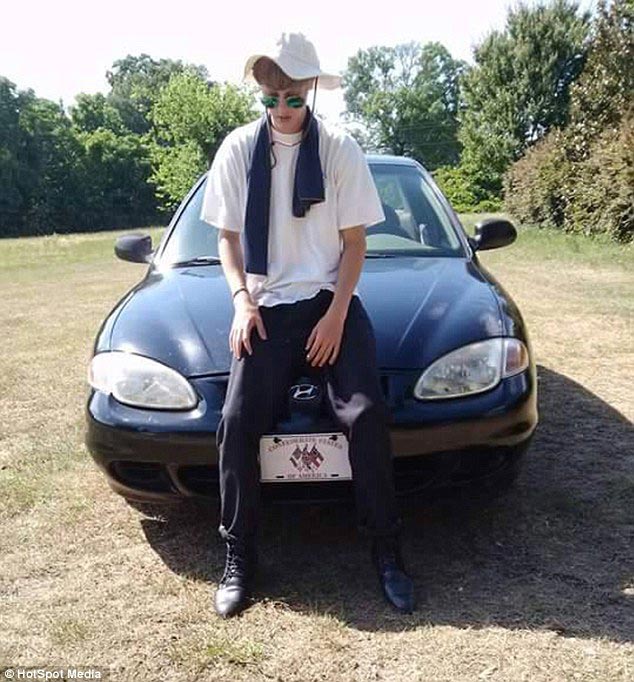 In new shocking revelations, a report has told that Charleston shooting suspect Dylan Storm Roof had in the days preceding Wednesday night's blood shedding openly telling friends and neighbors he was planning a massacre.
Dylann Storm Roof drug addict and proud racist.
Dylann Storm Roof drug addict and proud racist.
Who is Dylann Roof? Got a shotgun for his 21st birthday
Dylann Storm Roof pictures. Identified as the Charleston shooter
Told a friend of the assailant, Christon Scriven via the nydailynews: 'He flat out told us he was going to do this stuff.'
The declaration came after the 21-year-old Roof had moved to a local trailer park two months ago where he proceeded to tell friends that he wanted to kill people at a local college.
As recently as last week the assailant said he he was looking to kill a bunch of people on Wednesday at the College of Charleston.
Nevertheless because of Dylann Storm Roof's deadpan humor, Scriven said that no one took him seriously.
'He's weird. You don't know when to take him seriously and when not to,' said Scriven, who is black.
Hauntingly, Roof's plans of carnage may have been in the planning way before yesterday's blood bath after Roof began hanging around a local shopping mall and began asking a series of unsettling questions which drew the attention of cops.
Told a report via the nytimes: In February, he attracted attention at the Columbiana Centre, a shopping mall, by asking store employees "out-of-the-ordinary questions" such as how many people were working and what time they would be leaving, according to a police report.
Arriving cops would soon find the youth carrying controlled drug substances on his person, including prescription pills, meth and cocaine which would lead to Roof being arrested.
Reports the nytimes: An officer who responded searched him and found Suboxone, a prescription drug used to treat opiate addiction and frequently sold in illegal street transactions. Mr. Roof admitted that he did not have a prescription for the drug, the report said, and he was arrested and charged with felony drug possession.
Yet two months later despite being warned not to return to the mall, Roof would be found on the roof of the mall in April, leading to his arrest again on misdemeanor charges of trespassing.
In that instance, Roof served 12 days in jail along with paying a $262.50 fine. He was reportedly out on bond for the felony drug charge at the time of the shooting.
Why Roof had returned to the shopping mall roof wasn't necessarily disclosed at the time, save for speculation that Roof may have returned with the aim of acquiring logistics in order to carry out the massacre that the disaffected youth longed to carry out.
Why Dylann Roof had in the end had specifically targeted historic black church, Emanuel A.M.E. Church, despite previous overtures towards a local mall and claims towards perpetrating a massacre at a local college isn't necessarily understood, save for the notion, no matter where the carnage was to take place, Roof's ultimate target were alway going to be African Americans….
Dylan Storm Roof is a TERRORIST & THUG, not "mentally ill" stop trying to humanize him & his acts #CharlestonShooting

— Safari (@fari_supercinco) June 18, 2015
Dylan Roof was a homeless drug addict who didn't want to get a job. http://t.co/Enkbmt7G0N

— Michael Costello (@Kozmocostello) June 18, 2015
Dylan Storm Roof killed those black people because he was racist not because he was mentally ill.

— Chris (@youngkhriz1) June 18, 2015
Make no mistake, Dylan Roof & the #CharlestonShooting are part of the system, a product of it, not some unpredictable, unexplainable outlier

— Keegan Stephan (@KeeganNYC) June 18, 2015
The USA is a racist state, founded on genocide, slavery & imperialism.

And today you're asking me: "Where was Dylan Roof radicalized?"

— AFRICA IS A COUNTRY (@AfricasaCountry) June 18, 2015
Dylan Roof was arrested on drug charges in February… If he were black he would be somewhere serving 20yrs to life. #CharlestonShooting

— DanielleMoodie-Mills (@DeeTwoCents) June 18, 2015