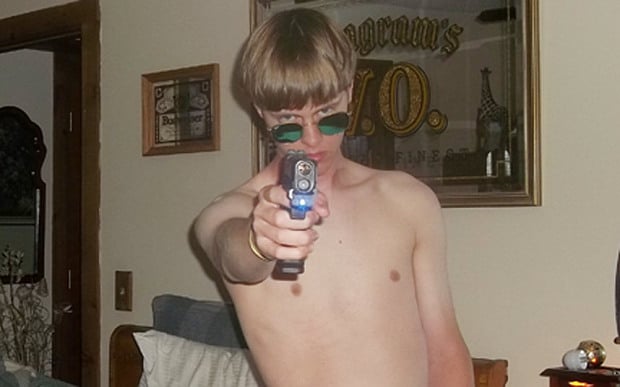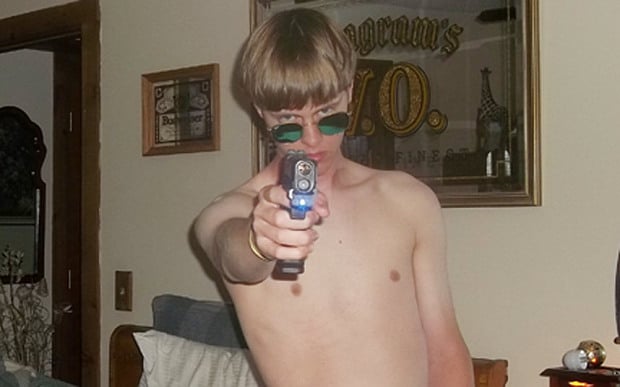 In the moment before Charleston shooter Dylan Storm Roof  began pummeling bullets into a bible reading congregation at Emanuel A.M.E. Church he told his intended victims, 'You're raping our women, you're taking over, this is our country, we want it back.'
Franklin Bennett Roof receives Black Panther Party threats: 'We're coming to see you'
Christon Scriven: 'Dylann Roof planned to shoot up college campus. I hid his gun.'
Dylann Roof's racist manifesto found: Niggers are stupid and violent.
Dylann Roof nearly abandoned shooting cause his victims were nice to him
A statement the shooter may have made since it has now been revealed that an unrequited love interest who spurned his advances and began dating a 'black man' led to Roof outraged and seeking revenge.
The disclosure comes via the shooter's cousin, Scott Roof who tells, after being spurned his cousin being drawn to the rhetoric of white supremacy power and hate and disregard for black people.
Told the cousin via The Intercept: 'He kind of went over the edge when a girl he liked starting dating a black guy two years back,'
Adding that he also 'started listening to that white power music stuff.'
'Dylann liked her. The black guy got her,'
'He changed. I don't know if we would be here if not…' he finished, before hanging up the phone on the reporter. 
The attitude mirrors that of manifesto written by Elliot Rodger, who on May 23, 2014 gunned down six people in Isla Vista, California: 'How could an inferior, ugly black boy be able to get a white girl and not me?'
A disposition which absolved the wounded white man from reflecting on their own self and displacing their inner turmoil against perceived aggravators …inferior agitators who 'raped' their 'rightful women.'
Did Dylann Storm Roof commit terrorism? The peril of calling a hate crime terrorism
Dylan Roof: 'I want to start a civil war then kill myself'
Charleston shooting victims identified: 'I will truly miss you my love'
Tywanza Sanders videos Dylann Roof before being shot dead
Dylann Roof boasted planning massacre: I am looking to kill a bunch of people
Dylann Storm Roof drug addict and proud racist.
Dylann Storm Roof drug addict and proud racist.
Who is Dylann Roof? Got a shotgun for his 21st birthday
Dylann Storm Roof pictures. Identified as the Charleston shooter