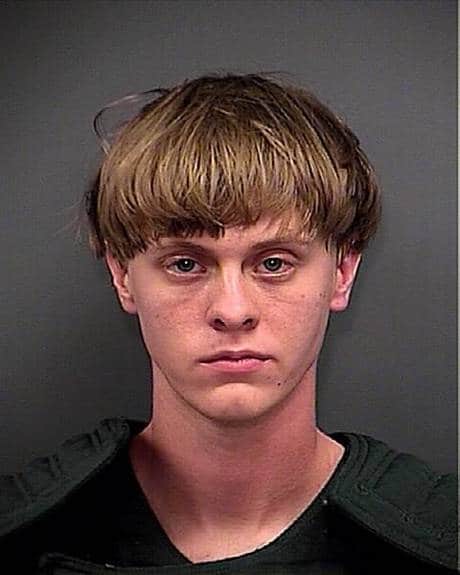 Since confessing to murdering nine individuals, Dylan Storm Roof  told cops he 'almost didn't kill' his intended victims at, Emanuel A.M.E. Church Wednesday night ' 'because everyone was so nice' to him, according to a report via NBC News. Eventually, though, Roof decided he had to 'go through with his mission.'
Prior to confessing to the shooting, the 21-year-old suspect came to be arrested yesterday morning in Shelby, N.C. after a tip and extradited to South Carolina last night.
He's since been charged with nine counts of murder and possession of a firearm during the commission of a violent crime, and is expected to at a bond hearing today at 2 pm where a public defender will represent him.
Despite calls to have the shooting deemed as terrorism, state and federal officials have told that they are treating the crime as a hate crime.
In other reports, the nytimes tells how Roof's intended victims had tried to talk their assailant out of going through with his intent of shooting them and acting in violence.
According to the cousin of the one of the victims, Tywanza Sanders had pleaded with Roof in the hope that he could reason with the gunman.
Told the cousin of what Sanders said to the gunman: 'You don't have to do this,' 
To which the gunman replied, 'Yes. You are raping our women and taking over the country.
It would only be after Sander's mother and niece played dead after being shot at (and unharmed) that their lives came to be spared.
A third member of the bible study group would also survive the attack after Roof told them they were being spared so they could tell the world what he had done.
Did Dylann Storm Roof commit terrorism? The peril of calling a hate crime terrorism
Dylan Roof: 'I want to start a civil war then kill myself'
Charleston shooting victims identified: 'I will truly miss you my love'
Tywanza Sanders videos Dylann Roof before being shot dead
Dylann Roof boasted planning massacre: I am looking to kill a bunch of people
Dylann Storm Roof drug addict and proud racist.
Dylann Storm Roof drug addict and proud racist.
Who is Dylann Roof? Got a shotgun for his 21st birthday
Dylann Storm Roof pictures. Identified as the Charleston shooter