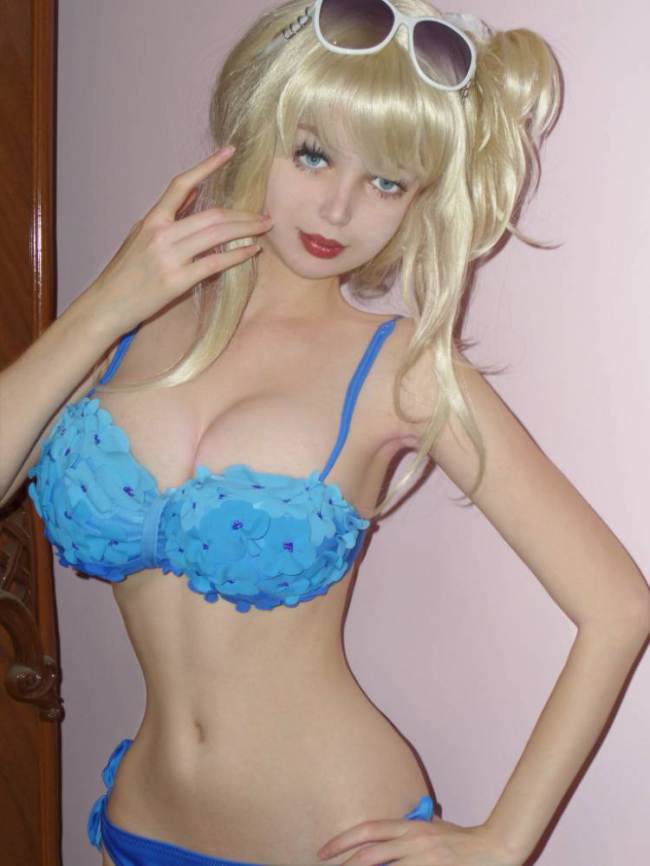 Out of Ukraine comes Lolita Richi, 16, the newest and youngest contender to the Human Barbie doll stakes. Yet what makes Lolita Richi's bid to be the most doll like beauty is her assertion that she has never had plastic surgery, a contention many find hard to believe.
Lolita, 16, from Kiev, Ukraine, boasts the same improbable body proportions and blank facial features as a Barbie. She has a tiny 20-inch waist, a 32F bra size and wears contact lenses that give her a wide-eyed, doll-like stare.
According to the UK's dailymail, 'Lo-li-tahh' maintains her 'striking looks' have been achieved without plastic surgery, dieting or Photoshop.
The outspoken high-school student, who is now temporarily living in Turkmenistan, says: 'I think I've achieved this image better than anyone else. I'm the ultimate vamp woman. I haven't even heard of Valeria Lukyanov. 

'People have openly told me that they're jealous of me and how good I look. All of the boys at school fancy me as well but I don't like any of them. They are not to my taste.'
Growing up, Lolita confesses she was a playful tomboy who showed no interest in her appearance.
Offering: 'I never thought about playing with dolls when I was younger. I was always outside playing with the boys.'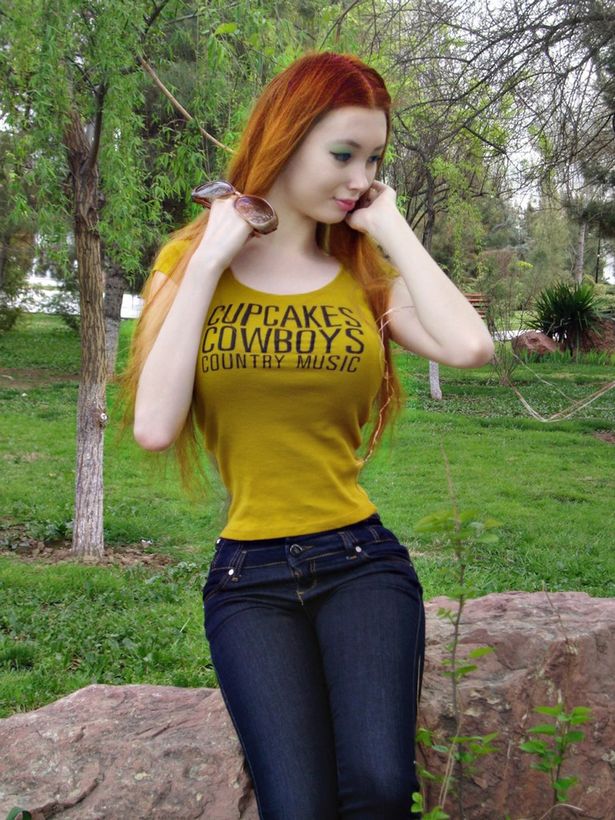 Since adopting the Human Barbie doll look, Lolita Richi confides that she has gained a devoted band of followers on Russian social network VK.
Explains Lo-lee-tahh: 'I started dressing up like this because I want to look perfect. I think that all women should be well-kept and immaculate. I wanted to be my own inspiration. 

'If a girl doesn't have beautiful eyes then they should wear contact lenses to sort it out. If they have a crooked nose, then she must do something about it, whether that's plastic surgery or not.
'I had great features to start with and I just improved on them. My big breasts are natural although I something wear a push-up bra to enhance them.

'I have a gorgeous figure so I don't even have to diet. I just eat whatever's available in the fridge whether that's sausages or fruit.

'I started wearing affordable contact lenses and make-up. My mother used to be an actress so I borrow her wigs. 
'I feel comfortable and confident in my appearance. There are many women who want to look like this.'

However Lolita confesses that she does receive a fair share of negative criticism.
Confides 'Lo-lee-tah' via the UK's mirror: 'People make good and bad comments about me online. I've blocked a few users who have been particularly mean about my appearance. 

'But I do get nice compliments too, I like when men admire my hands.'
That though hardly phases Lolita's mother, Anya Richi, 33 who also happens to coincidentally serve as her daughter's photographer, making sure to captures all of the snaps that Lolita uploads online. 

Offers Lo-lee-tahh: 'My mum doesn't say anything about my appearance. She allows me to dress however I want. My mum's proud of how I look.'
And when it comes to boys, Lolita insists there is no man out there who is a worthy candidate for her affections.
Reiterates the 16 year old Human Barbie doll beauty: 'I'm not attracted to any of the boys at school, although they all like me. They aren't good enough for me and they have an immature mentality. 
'I did have one serious boyfriend in the past but I dumped him because we kept having little disagreements. In the end, we were incompatible.

'I want to be with a really manly man who is polite, sensible and who doesn't run away from problems. He also needs to have a full head of hair. I don't like bald men.' 
Interestingly Lo-lee-tahh wants to become a psychologist after she finishes school but admits she would love to achieve fame for her look.
Explaining: 'I'm only 5ft 4in tall so I can't become a model unfortunately. But if I can become famous for my appearance in some other way, I will be extremely happy.'
images via VK social media
Human Barbie Valeria Lukyanova selfie. But where's the make up?
Human Barbie 'Valeria Lukyanova' race theory: How it got uglier.
Human Barbie starvation diet: just light and air
What terror! Real life Ken and Barbie, aka Justin Jedlica and Valeria Lukyanova meet.
Oh really?! Living Barbie doll Valeria Lukyanova meets her twin double, Dominica.
Valeria Lukyanova living Barbie doll is a fake according to new video.
Valeria Lukyanova living Barbie doll stars in high fashion shoot for V magazine.
Ukrainian model looks like Barbie Doll after operations, but is it all a hoax?
Meet the teenage girl who has transformed herself into a living Japanese anime doll.