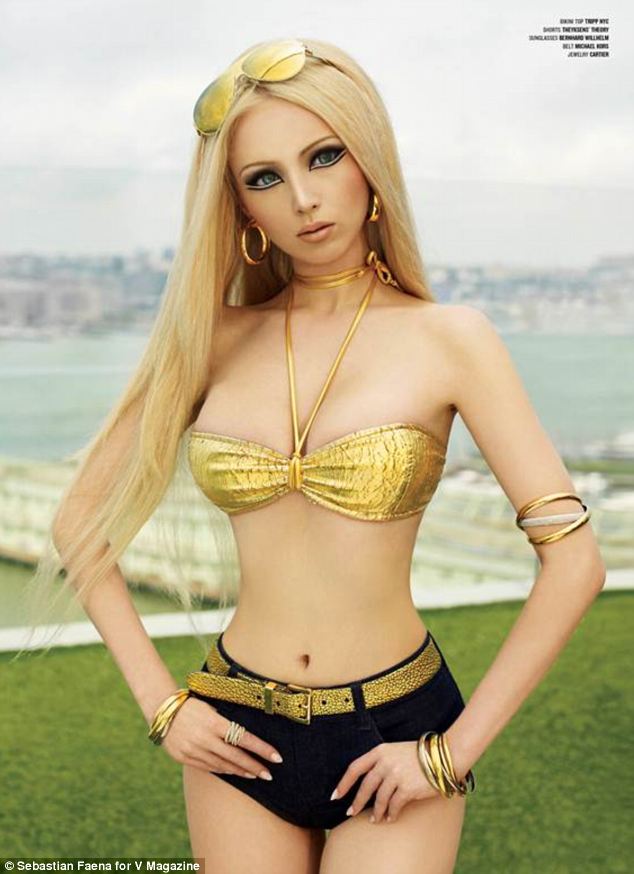 Oh really?! Living Barbie doll Valeria Lukyanova meets her twin double, Dominica.
Valeria Lukyonova living Barbie doll is a fake according to new video.
How far would you go for perfection?
21 year old Ukrainian model Valeria Lukyonova has been setting tongues wagging both in wonder and approval and conversely in eerie recoil as she has over the years carefully transformed herself into a living Barbie doll, with wide eyes, narrow chin, svelte waist and a buxom breast line.
That said upping the ante, Valeria agreed to pose for V magazine's latest 'Girl Power' issue in which she discusses what she does with the better part of her day.
Reflects Valeria: 'In the morning I work on my face and I get a massage, then I spend some time on the Internet,' 
'I meditate and travel in my astral body, and after that I work out at the gym. I go for a walk with my best girlfriend, I get home, and I make dinner for the man I love. 
'Then I spend some more time on the Internet, do some reading and meditating, and go to bed.'
Valeria, real name Amatue who first came to prominence after pictures of her porcelain features first went viral back in April of this year then goes on to tell V magazine that her 'real job' is 'a teacher at the School of Out-Of-Body Travel… an international school in which our instructors show students how to leave their physical body and travel in their spiritual body, where you can visit any place on the planet and in the universe.
After people around the world questioned whether Lukyanova is real, computer generated or if she has had numerous plastic surgeries to complete her look, she told told V magazine:
Many people say bad things about people who want to perfect themselves.
It's hard work, but they dismiss it as something done by surgeons or computer artists. […] But I don't take them seriously. I'm even flattered! It's what success is like. I'm happy I seem unreal to them, it means I'm doing a good job.
Indeed, I've noticed a trend. Every good-looking woman with fine features and a slim figure looks like a doll. I won't deny that I play along with people's perceptions. I'm amused by the reactions. I don't take it seriously.
The real life Barbie has a Facebook account and she posts numerous photo of herself.
The Girl Power issue is set to be released on November 15, 2012.
Meet the teenage girl who has transformed herself into a living Japanese anime doll.
Ukrainian model looks like Barbie Doll after operations, but is it all a hoax?