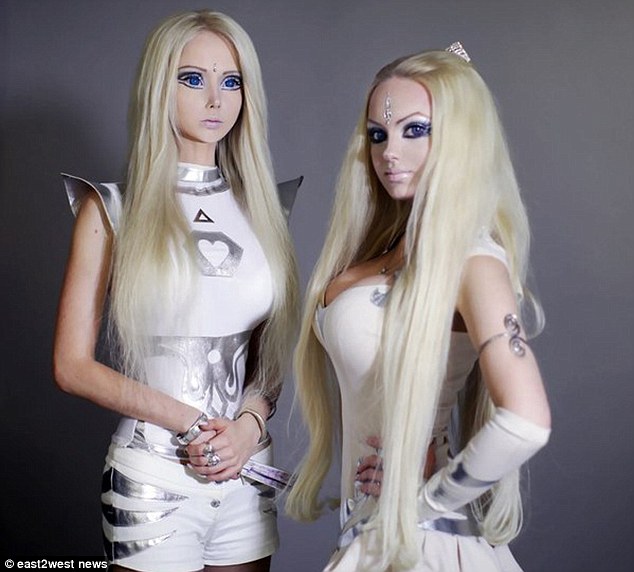 Valeria Lukyanova living Barbie doll is a fake according to new video.
Valeria Lukyanova living Barbie doll stars in high fashion shoot for V magazine.
Ukrainian model looks like Barbie Doll after operations, but is it all a hoax?
Meet the teenage girl who has transformed herself into a living Japanese anime doll.
It might be one thing to imagine the likes of a real life Barbie doll in the form of highly controversial Valeria Lukyanova, but it seems pundits might be in for a shock as Valeria now teams up with another real life Barbie doll, 24 year old 'Dominica,' aka Olga Oleynik.
According to the UK's dailymail, the two who have spent a hearty amount of time under the surgeon's knife, first met 5 years ago and both come from the Ukrainian city of Odessa.
'We were curious about our similarities. We had the same hairstyle, make-up, and even dressed in a similar way. Our friends were sure that we were blood sisters.
'We are really sisters – but only in spiritual way. We have the same outlook and lifestyle.'
Interestingly what they had also had been holding in common was their capacity to hold joint lectures on spirituality at $80 an hour, which of course would probably help the duo continue fine-tuning their spirituality at the plastic surgeon's office.
But there's more:
Said Valeria: 'We are planning to move to America soon. Dominica's boyfriend is living in the US and my husband wants to start a business there too. I am not going to be bored abroad, I'm often invited to photo-shoots and parties.'
Often invited to photo shoots and parties? Indeed. And probably going forward at a generous fee no doubt as well. After all who can pass up Valeria and Dominica's special brand of 'spirituality?'