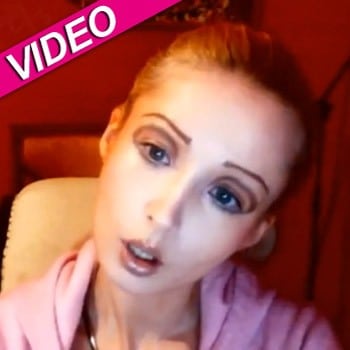 Oh really?! Living Barbie doll Valeria Lukyanova meets her twin double, Dominica.
Valeria Lukyanova living Barbie doll stars in high fashion shoot for V magazine.
Ukrainian model looks like Barbie Doll after operations, but is it all a hoax?
Meet the teenage girl who has transformed herself into a living Japanese anime doll.
She may have caused controversy with her porcelain Barbie doll features and proportions with some accusing her of plastic surgery and extreme photoshop but Ukrainian model Valeria Lukyonova has insisted all along that there is nothing fake about her and that what you see is in fact what you get. Well maybe not anymore….
According to the site TheDirty.com, who admittedly have a policy that they do not stand by any of their stories (I know journalism at its best) the outlet reckons it has now come up with conclusive proof that shows once and for all that the Human Barbie doll is in fact fake courtesy of new video in its possession.
Says the site's founder Nik Richie: "Valeria Lukyanova is the Michael Jackson of Ukraine."
"This girl is a FRAUD. She had been badly photoshopping her photos since the beginning of her time online," alleges the commentator on the site. "Her videos aren't photoshopped. Does she still look the same? There is a ton more of videos out there and as you can see from them, she looks nothing like she does when she photoshops her photos."
Tells radaronline: In the bizarre footage, Valeria has her head tipped at an extreme angle and says in her native tongue: "Everyone who will try to ask me about my neck at least one more time in their life will be banned immediately.
"Mean people.. Can't you understand I have neck problems? And I can't hold my neck straight," she said, while flipping her head back and forth proactively as she complains about her "thin and fragile neck, and big head."
The video comes not even a week after the Human Barbie doll appeared in a photoshoot for fashion mag V mag.
In that shoot Valeria Lukyanova speaks out against her critics who have branded her as a hoax and a fake and having gone way overboard.
"happy I seem unreal to them, it means I'm doing a good job," adamantly asserting that she has never gone under the knife "This is how they justify not wanting to strive for self-improvement."
"I'm an idealist and a perfectionist, and I want my looks to reflect the world within me and how I feel."
Many people say bad things about people who want to perfect themselves.
It's hard work, but they dismiss it as something done by surgeons or computer artists. […] But I don't take them seriously. I'm even flattered! It's what success is like. I'm happy I seem unreal to them, it means I'm doing a good job.
Indeed, I've noticed a trend. Every good-looking woman with fine features and a slim figure looks like a doll. I won't deny that I play along with people's perceptions. I'm amused by the reactions. I don't take it seriously.
Then again many find it hard to believe that Ms Lukyonova does anything but take it all too seriously all the way to a new level.
Have a look at the video immediately below (said to incriminate her) as well as the others below that and ask yourself if this is all just fake or the desperate attempt of a young woman to measure up to some ideal in her head that she believes the world has mandated of her and most women….?