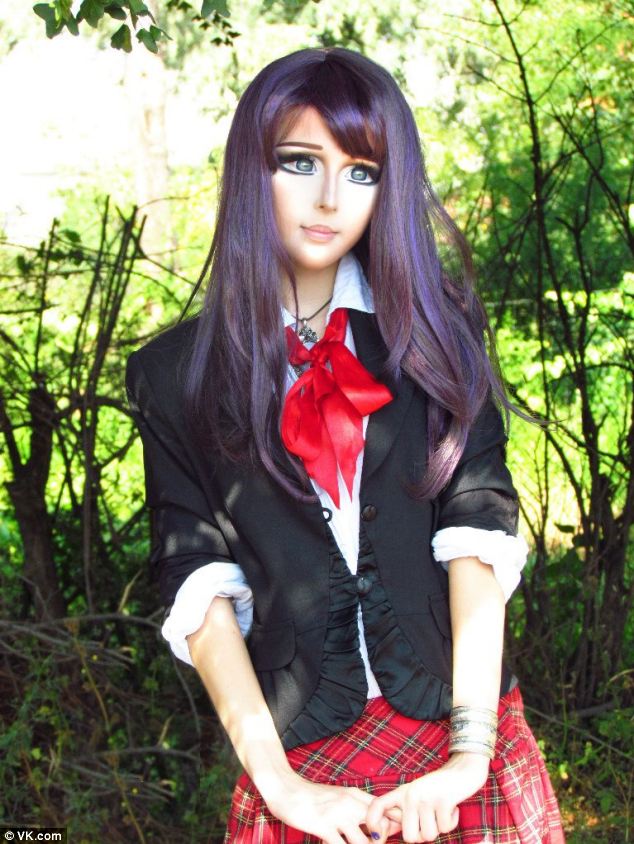 Devoted anime fan Anastasiya Shpagina has literally over the years transformed herself into a living Japanese anime film character. With large glassy eyes, purple hair, miniature waist and a super defined chiseled pout one is pressed to wonder if Anastasiya is a living cartoon enigma, hence the adopted alter ego name of Fukkacumi.
Originally from the Ukraine, 19 year old Anastasiya has taken her inspiration from the cartoons and computer animations that have a large following in Japan.
In fact so dedicated is the teenager in approximating the Japanese anime cartoon character that has become a cult favorite amongst many of Japanese youth, the 5'2 teenager has even managed to slim down to a bare 90 pounds as incredulous as that sounds. Which does sound quite alarming to this author.
So dedicated is the young woman in achieving her desired look she likes to boast that she easily spends up to 30 minutes applying make up just to each eye and is now said to be considering plastic surgery to her eyes so she may more closely resemble the Japanese anime characters that she and other young women savor.
And she has no shortage of devoted fans (which explains why she spends so much time on her appearances thank you very much) with over 10 000 Facebook fans as well as viral traffic on youtube where she demonstrates how to apply make up.
That said one is inclined to wonder what has possessed the teenager to go to such extremes in her self portrayal? Is it a desire to live out a kind of fantasy, a kind of cult celebrity status amongst her fans who are in awe of her or is she simply willing to take all risk in approximating that perfect vision of herself even if it may all be based on whimsy and diabolical fantasy….
via UK's dailymail
What? Chinese blogger now said to resemble anime doll look.
Ukrainian model looks like Barbie Doll after operations, but is it all a hoax?