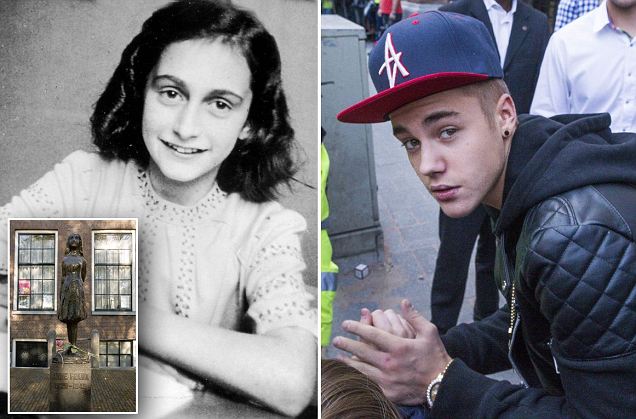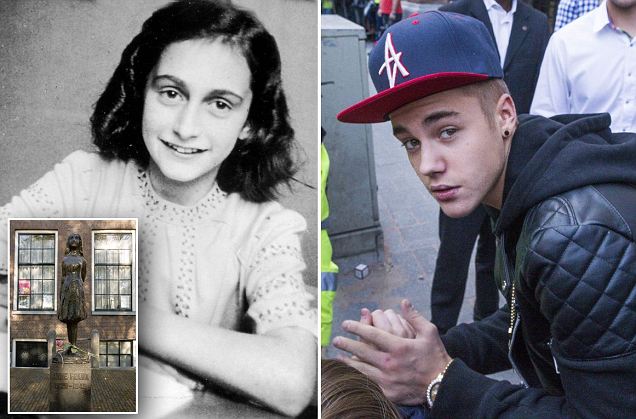 Justin Bieber is still a hero reckons the Anne Frank Museum.
Making headlines this weekend is Justin Bieber's all resounding ego as the dapper teen pop star chose to write 'Anne Frank would have been a Belieber' in the Anne Frank Museum guest book. His remarks have inflamed Holocaust survivors as the pop star continues his sturdy course of recent bad behavior.
Choosing to drop by the Anne Frank Musuem last night in Amsterdam with a cohort of friends, the star who chose to keep his sunglasses on (cause you have to figure it's Biebs who we all need to be respecting) vomited large shrapnels of his ego as he took to sign the guest book.
For those who don't remember Anne Frank was a Jewish girl who managed to hide for 2 years from the Nazis in an Amsterdam attic all the while keeping a diary documenting  her thoughts until the Nazis eventually caught up with her in 1945. Which of course is another way of saying Anne Frank is a big deal and it's best to never fuck with her memory unless of course that shit means nothing to you and you really know who the real McDaddy of fame and heroism really is.
Wrote our collective hero: "Truly inspiring to be able to come here. Anne was a great girl. Hopefully she would have been a belieber."
And then there was this remark courtesy of Michael K of dlisted that brought a rueful smile to this author's face:
And Justin Bieber accomplished the impossible by managing to out-Bieber himself.
above image found here.
Justin Bieber now banned from Austrian nightclub.
And this is Justin Bieber groping a fan in Miami.
Justin Bieber got dumped by Selena Gomez because he got stoned again and had sex with a nursing student.
Selena Gomez storms out on Justin Bieber. Tells press nothing!
Justin Bieber's Ferrari causes a paparazzo to die.
Oh really?! Justin Bieber nearly got himself murdered and castrated.
Justin Bieber throws water bottle at paparazzi. No love lost…
Video: Victoria's Secret models lip sync to Justin Bieber. Yes too yummy….
Oh really? This is Justin Bieber flexing his muscles via twitter.
This is Justin Bieber wearing trash overalls to meet the Prime Minister of Canada, Stephen Harper.
Justin Bieber causes traffic jam to tell off paparazzo whilst driving his Ferrari.
Justin Bieber and Selena Gomez dinner date leads to him being ditched after ten minutes.
Justin Bieber not sure whether to go back to Selena Gomez or bang Victoria Secret models.
Justin Bieber's model girlfriend Barbara Palvin already has a boyfriend.
Justin Bieber got his marching orders from Selena Gomez last week. Too immature…
Justin Bieber couldn't resist eye balling all those Victoria's Secret models…