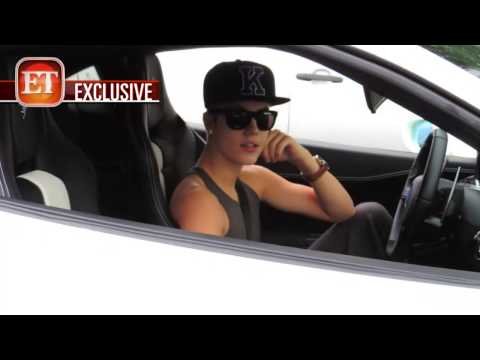 Justin Bieber will not tolerate your bad attitude Mr Paparazzo.
Justin Bieber seemed to have found himself in an untenable position this past Saturday when a paparazzo gave him pursuit forcing our collective hero to give back some himself.
Then again can we really blame the paparazzi for making our hero's life miserable when he drives in a revved up make believe white sex toy with the phallic symbol of unadulterated youth slinging in the golden LA wind? There are after all less conspicuous ways to get around if one doesn't want to be noticed.
By now not amused, Biebs finally stops his sex toy in the middle of the street cause he's decided he's going to teach another paparazzo (who by the way has the most amazing sleazy accent I've heard since I last visited a 4 am pick up bar) about manners. Then again Biebs is invincible and if he wants to stop traffic so he can teach some scumbag how the world is suppose to work, who are we to judge? Best just to sit back and watch with our mouth wide open.
Of course the best part in my opinion is when the Biebs nonchalantly asks a) 'if the paparazzo's mother knows what he does for a living' and b) 'whether the paparazzo understands  he stalks people for a living?' All this whilst the whole world beeping behind our hero wants to get out and smash his skull against his shiny wet sexy toy…