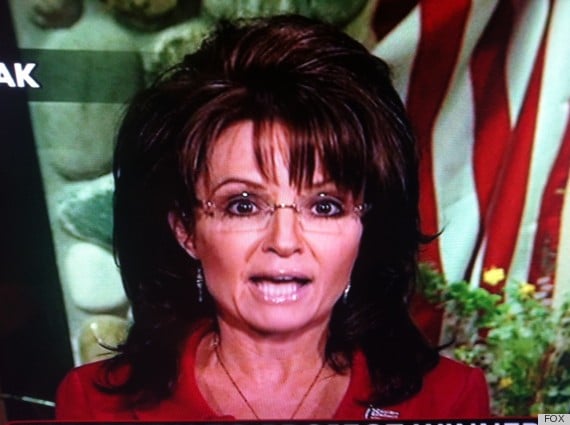 Sarah Palin is living somewhere deep in the recesses of a previous existence that has long been extinguished by the wrinkles and dementia vermin skidding off her gel plaqued hair do…
Kids take a good long hard look at the above picture, once you've done that slowly swirl the gin of good shit in your mouth and quickly spit it out at the window, it might help you feel better, but in my case that shit required me to squeeze an extra touch of vermouth to really get that bitter shit out of my mouth.
Now that you have rinsed your mouth out and nervously checked to see if you can still make your hair stick straight in the air the way it used to when you used to be a truant teenager back in 1983 repeat after yourself: 'I will refuse to be bamboozled by the messiah goddess otherwise known as Sarah Palin reincarnated from my 1980 teen years.'
huffpo: No, we didn't mess up and accidentally publish a photo of Sarah Palin from the '80s. That is indeed a screengrab from her election day appearance on Fox News, where Palin debuted a new look: sky-high mall hair, frosted lipgloss and Kardashian-level contouring. It's a departure from her standard kind-of-60s bouffants and (somewhat) more fresh-faced makeup choices. This is full-on, unapologetic '80s.
What do you think? Is her look two steps forward… or two steps back?
Kids you already know my answer to that question….growl.
Oh my! Sarah Palin is a skinny hawt bixch. Her moose diet is doing wonders!
Frosted lips and scary hairstyles from a bygone decade below….