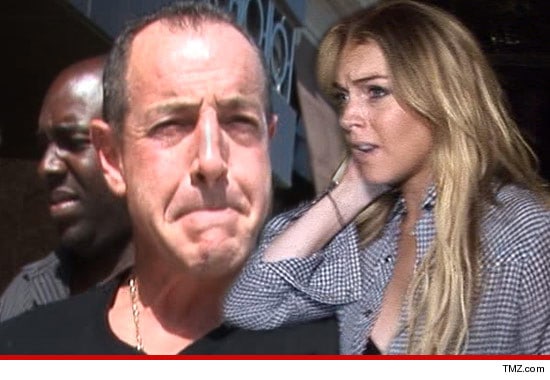 Lindsay Lohan to get restraining order against Michael Lohan who now seeks conservatorship.
Lindsay Lohan's mama Dina Lohan would like remind Michael Lohan he disgusts her.
Lindsay Lohan has her dad Michael escorted by police for trespassing.
Lindsay Lohan's momma Dina reckons Lilo needs protection order against her dad Michael.
Really? Lindsay Lohan's dad Michael Lohan reckons her friends are the reason why she's falling apart.
Lindsay Lohan's mom, Dina in debt to the tune of $1.3 million despite raking percentage of Lindsay's salary.
Lindsay Lohan now insists that mother Dina is not a cokehead.
Never mind, Lindsay Lohan and Dina now kiss and make up.
Lindsay Lohan and Dina get into a fight after Dina refuses to give back Lindsay back $40 000 she gave her.
Dina Lohan if given a second chance would never have gone partying with Lindsay.
Where did all the love go…?
Kids in the latest installment of father does not know(s) best, our preferred father of the week, Michael Lohan is now whining that Dina Lohan is manipulating his baby doll Lindsay's head after Lilo went live to tmz retracting her assertion that her mother ever drew blood from her leg or for that matter, Dina ever uses cocaine . Which is nice if you don't mind reading the occasional fairy tale before taking an afternoon siesta.
Chagrined that his honey bunch has gone to tmz accusing him of selling her out (but Lindsay, dad had to pay the rent, please be reasonable!) by releasing their phone call to tmz (cause dad has learned it's always a wise idea to tape every bat shit phone conversation he ever has with his fuzzy compelled daughter) Michael Lohan is now insisting that Dina, Lilo's mom is the real culprit here and he's worried sick about his gold gravy train, Lilo.
"This is just another manipulation by Dina to control Lindsay.  Dina is just using Lindsay to cover her tracks."
And daddy is just using Lilo to pay his rent, so far all is fair and square in love and war.
Goes on daddy to say: "Why is it that every time someone nails Dina doing something wrong, either on camera or on tape, they are always lying."
Hmm, kids do you think we could all say the same about daddy too?
And then there's this dysfunctional dream too:
As for Lindsay's vow to never talk to Michael again, he says, "I know Lindsay loves me and I love her very much."
Kids, isn't it time you hopped on the save the Lohan family help line now, only $3 per minute:
1 877 HELP LOHAN MAKE MONEY