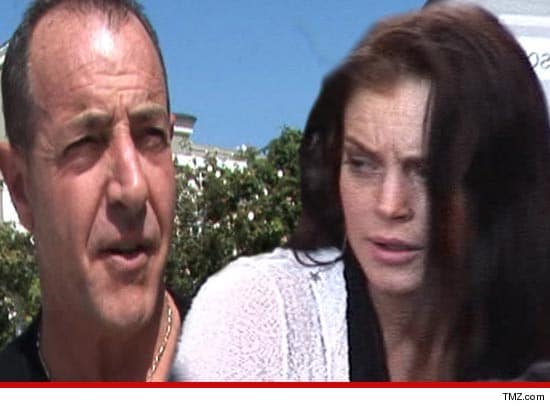 The pot banging is going to be loud and strong this week….
Oh dear here we go again in round 40 billion in the latest 'I don't know why my life just never gets better' saga starring America's preferred and adored disenchanted white trash vixen Lindsay Lohan who this week will be seen putting her self medication self mutilate kit away as she motions to get a restraining order again daddy Michael Lohan who has most definitely out stayed his 'we were friends for half a minute' status before shit just got messy again.
It seems what's got Lilo all riled up now is papa Lohan's botched attempt (with tmz video crew in tandem too, cause that's the classy way to get things done when you really want to help your little drug addict) to make a mockery of his little wench this Friday past when Lilo pushed her storm trooping daddy back out onto the street when that bixch tried to stage an intervention.
Furious that papa Lohan would attempt to embarrass her (because only Lilo and momma Dina Lohan are allowed to do that shit) Lilo has now gone on the warpath and is now seeking to get a restraining order on that money grabbing bixch (Lilo is insisting that papa Lohan sold what she thought was their private phone conversation the night momma Dina Lohan was beating her up with her coco flared nostrils to tmz, thus betraying some sort of family ethos) as Lilo has finally had it with her money grabbing fame whore attention seeking good for nothing daddy.
According to e-mails TMZ claims to have, papa Michael Lohan told the team Lindsay, 26, was "drinking between a bottle and a bottle and a half of vodka per day." He added that he has "seen the bottles." He also said she is "AGAIN, taking pills to keep her up and to sleep (adderall)!!"
According to tmz, Lilo (who for now is denying papa Milo's allegations) is furious that Milo would even attempt to use her name in an attempt to regain relevance (Lilo, daddy has got to pay the bills too!) and seeks now to forever banish her good for nothing bottom feeding daddy from her life.
And how do the Lohan kids feel about papa Lohan's intervention efforts?
TMZ spoke to Michael Jr., Ali and Cody Lohan about his behavour and the high profile intervention.
Michael Jr. says, 'I think it's unfortunate that the public had to be unwittingly invited into the lives of my family members due to my father's lies.
He added the children are no longer associating with him.
Ali added: 'Please stop waging your own personal war against my family.
'We don't need you to intervene because we can take care of ourselves without you, as we have been all these years.'
Meanwhile Cody said: 'I have no good memories of my so called father. He has never been part of my life, he needs to leave my family alone.'
But daddy is now going on to plan b cause Milo legitimately still believes he can save himself Lilo from himself herself and the dangerous friends she keeps (never mind the dangerous parents that bottom feed off her) as he has now sought to attain a conservatorship for his little girl.
But because Milo is an all assuming humble guy who really just wants to steer Lilo from her bad ways Milo insists he doesn't want the courts to appoint him as Lilo's conservator but at the same time he doesn't want the courts to appoint momma Dina Lohan as conservator either (cause that's like asking Luther from hell to take care of your baby new born). In fact he just wants the judge to choose anyone trustworthy and capable who can watch over his baby girl as she according to Milo continues her self disintegration and avid substance abuse.
As for Milo attempting to intervene this past Friday to get Lilo into drug rehab, Milo also now reckons that even Lilo's lawyer (Shawn Holley) and management team were all behind his efforts. Interestingly of course Dina Lohan wasn't, but then again she can probably smell a rat from the other side of the failed American dream dystopia….
If only this was just a made for tv special warning against the excesses of Hollywood as opposed to a real take by take slow motion meltdown of real people's lives who have long ago ceased having real lives….never mind stay tuned for tomorrow's episode which will have Lilo explaining how she goes about perfecting her Hollywood tan….
Lindsay Lohan's mama Dina Lohan would like remind Michael Lohan he disgusts her.
Lindsay Lohan has her dad Michael escorted by police for trespassing.
Lindsay Lohan's momma Dina reckons Lilo needs protection order against her dad Michael.
Really? Lindsay Lohan's dad Michael Lohan reckons her friends are the reason why she's falling apart.
Lindsay Lohan's dad Michael reckons Dina is screwing with her head.
Lindsay Lohan's mom, Dina in debt to the tune of $1.3 million despite raking percentage of Lindsay's salary.
Lindsay Lohan now insists that mother Dina is not a cokehead.
Never mind, Lindsay Lohan and Dina now kiss and make up.
Lindsay Lohan and Dina get into a fight after Dina refuses to give back Lindsay back $40 000 she gave her.