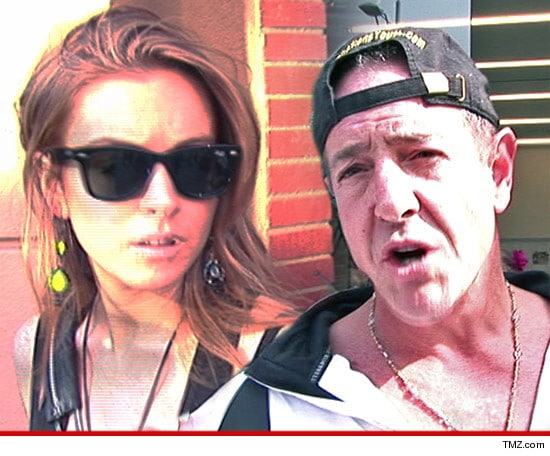 Lindsay Lohan to get restraining order against Michael Lohan who now seeks conservatorship.
Lindsay Lohan's mama Dina Lohan would like remind Michael Lohan he disgusts her.
Love don't live here anymore…
Looks like Lindsay Lohan isn't having much to do with her estranged father Michael Lohan who took it upon himself to stage an intervention in her life when he recently demanded seeing his daughter at her Beverly Hills abode with posse in tow.
Unfortunately for Michael Lohan Lilo's boyfriend had cops drop by and escort him off the premises as his sorry ass wasn't being welcomed.
Explained Michael Lohan: 'She's just around all the wrong people,'
"It's getting worse and worse. And her entire team — her manager, her publicist, her lawyers — they're all in the same place and they want to do something to get her help."
Michael Lohan's attempts to reach his daughter come after a recent episode which saw his daughter annex ties with her father once again after she accused his sorry ass of selling an audio tape of their phone conversation to gossip outlet tmz which she thought was private which at the time involved a hysterical Lilo complaining about her mother Dina Lohan who at that stage was rinsing coco puffs through her nostrilsand brushing too uncomfortably close against Lilo's soon to be broken bracelet.
Reports the nypost, a rep for Lindsay did not immediately reply to a call seeking comment. Can anyone guess why?
via tmz
Lindsay Lohan's momma Dina reckons Lilo needs protection order against her dad Michael.
Really? Lindsay Lohan's dad Michael Lohan reckons her friends are the reason why she's falling apart.
Lindsay Lohan's dad Michael reckons Dina is screwing with her head.
Lindsay Lohan's mom, Dina in debt to the tune of $1.3 million despite raking percentage of Lindsay's salary.
Lindsay Lohan now insists that mother Dina is not a cokehead.
Never mind, Lindsay Lohan and Dina now kiss and make up.
Lindsay Lohan and Dina get into a fight after Dina refuses to give back Lindsay back $40 000 she gave her.
Dina Lohan if given a second chance would never have gone partying with Lindsay.