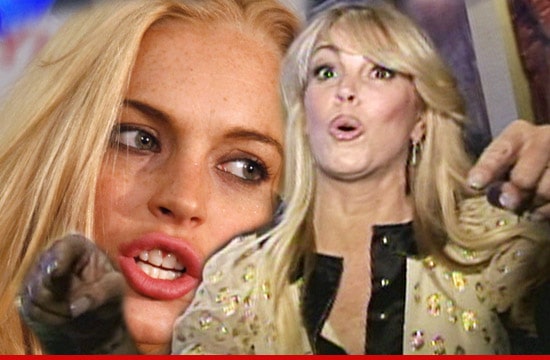 Lindsay Lohan to get restraining order against Michael Lohan who now seeks conservatorship.
Lindsay Lohan's mama Dina Lohan would like remind Michael Lohan he disgusts her.
Lindsay Lohan has her dad Michael escorted by police for trespassing.
Lindsay Lohan's momma Dina reckons Lilo needs protection order against her dad Michael.
Really? Lindsay Lohan's dad Michael Lohan reckons her friends are the reason why she's falling apart.
Lindsay Lohan's mom, Dina in debt to the tune of $1.3 million despite raking percentage of Lindsay's salary.
Lindsay Lohan's dad Michael reckons Dina is screwing with her head.
Lindsay Lohan now insists that mother Dina is not a cokehead.
Never mind, Lindsay Lohan and Dina now kiss and make up.
Are you really surprised?
In the never ending saga called this is Lindsay Lohan and the mutilated orbit that follows her called her life tmz is now reporting that Lilo and mom, Dina got into a physical altercation after nightclubbing in NYC.
The fight is said to have happened when the two disagreed about whether to return to Dina's home in Long Island or Lilo's hotel in the city, as Lilo had access to a limo and Dina wasn't interested in shelling out cash for a cab. Begrudgingly the two then headed back to Long Island when somewhere along the way mother and daughter started getting into it, with Lilo eventually calling the cops  against Dina who by now had scratched the bejesus out of Lilo's leg (yes the indignity).
When cops arrived they took a domestic incident report but no arrests were made. Apparently it is understood at one stage Lilo was  held against her will by Dina and the limo driver (you can figure that part out for yourselves cause me and the chipmunks don't even know which way is up anymore) with Lilo going so far as to report that she sustained property damage after her bracelet was broken (but you can bet on some level that shit was long broken before the two got into the limo last night).
According to witnesses Dina was particularly shit faced when they left the Electric Room where the duo had been partying. As of yet no mention whether Lilo herself was impaired before she got in the limo, but then again that's like saying bears don't shit in the woods.
But just in case you're really wondering what these bixches were fighting over (it's either men or money) a source tells radaronlinethat somewhere along the way home Lilo insisted that Dina give her back the $40 000 that she recently gave her (which is another way of saying Lilo's coco high started to wear off):
"Lindsay recently gave Dina $40,000 and after partying in the club together, she told her mom she wanted the money back and that's when the huge fight started,"
Never mind one day when Lilo looks up at a Hollywood billboard to see her gilded name orbiting around the planet she will nervously fidget for her broken necklace, a pack of never ending Marlboro lights and the ground up smithereens of Dina's vodka stained glass and gently inhale the whole lot in one go…