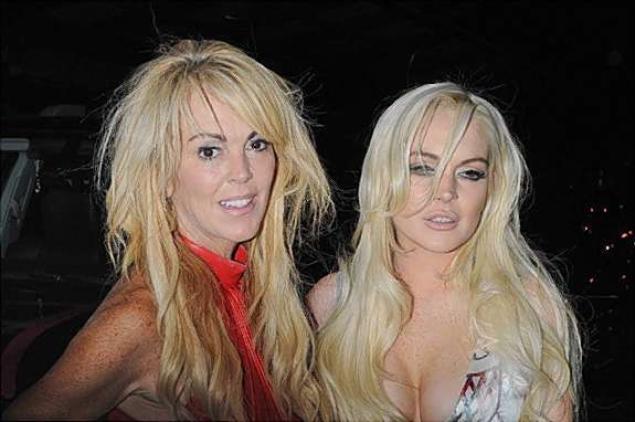 Dina Lohan would like to explain if she had to do it all over again she would have kept the good shit away from her eldest daughter Lindsay Lohan.
Seems like Dina Lohan has been mulling the downhill spiral that  is her life and her daughter when she gave an exclusive to the NY Daily news about the frailties of being a mother.
Dina reflects at the end of the day there is only so much she could have done for Lilo:
"I'm certainly not making excuses for Lindsay's behavior. But she's a 26-year-old woman."
A 26 year old woman who has had 26 years to learn how to manage to keep up with the best of them…
Commenting on her penchant for the good shit Dina offers the following:
"Some people who want to quit drinking do it cold turkey and some do it gradually — you want to keep a balance. I don't know what's a right way or a wrong way." 
Lilo who has once again found herself the center of attention after purportedly running into passerby Jose Rodriguez (who reckoned Lilo reeked of alcohol) has found herself in a series of mishaps time after time, including crashing her Porsche against a semi trailerearlier this year (although who's to blame like always is up for grabs as Lilo is once again like the Rodriguez incident is insisting she was 'set up') and then there was the incident of her stealing expensive jewelry as well.
But then the 50 year old Dina makes this startling revelation:
"I don't party with Lindsay. In the early years, I would go with her to clubs, because I wanted to see who the enablers were."
Of course if Dina bothered to look in the mirror she might wonder if she of all people was the one individual who enabled her daughter, but Dina who seems to have her own issues with the good shit might be hard pressed to agree.
Never mind one day when you least expect you'll come to read a story of how Dina was screaming into a pay phone at the crack of dawn along the Long Island Freeway insisting that Lindsay hightail her ass home cause her 5am curfew had come and gone and now it was time to have a good night drink with her. But that's just me running on a hunch…
Dina Lohan makes a mess of things on Dr Phil show.
Dina Lohan is very proud of her very hawt mess Lilo.
Oh dear! Dina Lohan and brother Paul skip out on charity dinner bill.
Did Lindsay Lohan slice up a fellow reveler at V magazine's party at the Boom Boom room last night?