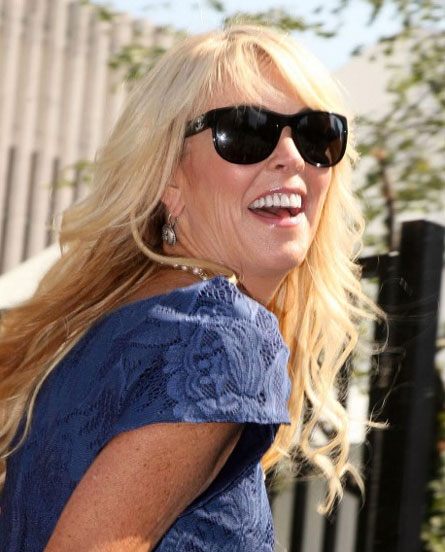 Looks like Dina Lohanhas still got the gift of getting herself in the majors, then again let's be honest someone had to have taught her little monster Lindsay all the tricks of the trade and now we know why.
The latest escapade involving Dina 'this is just another nasty week in my life and don't mind me if I growl' Lohan takes us to the Hamptons, coincidentally one of Dina's favorite summer haunts where she gets to graze amongst fat cats pretending to be nobility or some shot like that.
This week's beef you wonder? Let's have page 6 explain for us:
Dina Lohan and her brother Paul Anthony Sullivan left organizers of a Hamptons charity event fuming after they allegedly skipped out of the bash without paying the bill.
We're told Lindsay Lohan's party-cougar mom and her brother were offered four complimentary tickets to new East Hampton restaurant hot spot Andrra on Saturday night to watch the Great Bonac Fireworks Show to aid the nonprofit Clamshell Foundation, which supports local health, cultural and education projects.
But Dina and Paul arrived for the seated dinner with eight others. A source told us, "They dined and dashed on a $2,500 check and didn't leave a dime for the waiters. The understanding was they would get four free tickets. Anthony stormed up at the end and said, 'What is this check fo?'
Yes bixches what is the check for? Don't you know who I am? I'm the good grey goose that makes the silver merry go round go round. I'm the hawt bixch of the East End you all flock to come and see. I'm the mother of America's hand picked preferred media whore. $2500? Please bixches, put that on your bill!
Well not so fast Dina.
Organizers offered a reduced bill for around $1,100, but then they just upped and left without leaving a tip. When organizers later phoned him to demand payment, Sullivan said, 'My celebrity clients were not happy.'
That's right bixches. When Dina tells you her hawt self isn't happy with the service and the onlookers gawking at her, then you better listen. And really what's a few other guests coming along for the gate crash?
But Dina's brother thinks Andrra owner Rich Silver has gone cuckoo in the head. Reckons the whole dinner was suppose to be complimentary in the first place. Of course Rich doesn't agree to that shit.
Offered Paul Sullivan:
"Dina was strictly invited as a guest and had nothing to do with paying anything. This is totally false. There is no bill to pay. I paid $500 for drinks, and I will wire a tip tomorrow."
Wire a tip tomorrow? Kids when was the last time you wired the gangly out of work model/actor bartender a tip in the mail? That shit usually gets paid up front unless of course you have to be 'politely ' reminded.
Offers Phil Solages, Sullivan's attorney (wow, attorneys too, hmm…):
"My client . . . had an arrangement to assist . . . with the promotion of an event. The establishment informed him that his entire party, including himself would be comped for the evening, then he was presented with a bill in contradiction to the agreement. Upon mutual agreement the bill was greatly reduced. He is in possession of a receipt [presumably for drinks]." 
Please bixches don't you know Dina and Paul freeload everywhere they go? It's called media whore celebrity privilege….
Dina Lohan is very proud of her very hawt mess Lilo.
Randi Rahm wows at Upper East side boite whilst Dina Lohan holds court.
Gawd no! Don't let this be Moma Lohan making out with the wicked wench of Crack-ville!!