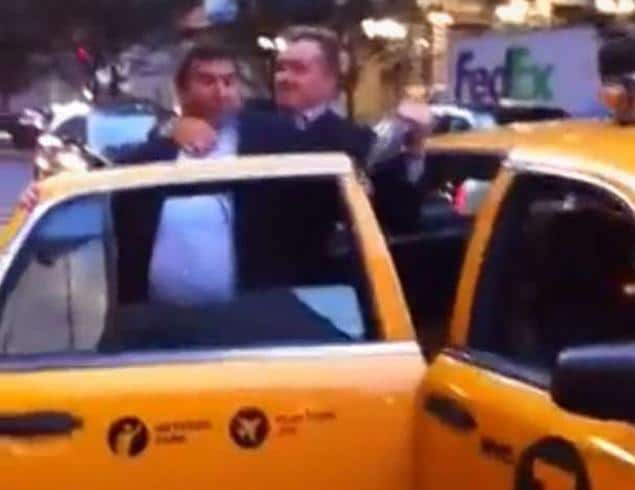 It's a rite of passage of being a New Yorker, fighting for your rightful place to that cab that you adamantly believe to be yours despite the exact viewpoint being shared by another New Yorker who is scheming how to get that cab before you do. For most it's just a dirty stare, a couple of unpleasant words but for two businessmen caught on tape in downtown Manhattan it was more than all of the above.
As the video as posted by user  "iamcalsen," reveals the two men begin by shoving and slapping each other, each equally believing the cab to be rightfully theirs. Yes the metaphor for the great existential go get them and make it big drama is being repeated in full here.
By now even the cabbie who is alert to the commotion gets out of the cab probably in disbelief and keen to diffuse the escalating situation taking place outside of his cab. But of course these two men being masters of the universe intent on controlling the world and of course their immediate destiny are hardly wanton to back down. After all there's a great story at the pub waiting to be told here.
Eventually one of them wins out but not before getting one more bixch slap to the back of the head.
Isn't it time you finally proved your masculinity and affirmed your existential prowess by bixch slapping another predator in a city full of a hundred and million cabs desperate to pick up the next waiting customer?
At present the video has received over 216 000 views and is rising since first being released.