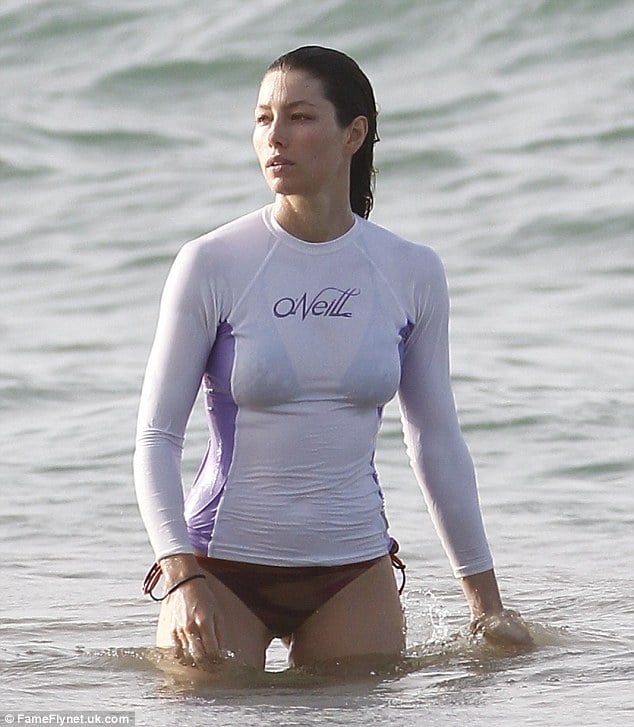 Nothing it seems tantalizes more than the sight of than our favorite media whores languidly showing off their superior bodies, minds and talents. Which brings us to the following human interest story, for a lack of better term, as hawt bixch du jour, Jessica Biel recently took to the waters this weekend and got to show off her stunning figure. Not that most of you would be too interested to notice…
Reports the dailymail.co.uk: The sporty actress may have covered up with an O'Neill rash vest, but she showed off her long legs – and pert bottom in a pair of bikini bottoms. 
Kids surely by now you are frothing and reaching for a screwdriver to poke your eyeballs out. I know I am.
Clearly in fine form, Jessica is well known for being a dedicated gym bunny, and even she admits she is 'boring' as she keeps to a strict routine.
The actress is in Puerto Rico with her fiancé Justin Timberlake, 31, who's in town with the crew of his new movie, Runner, Runner.
To get a stunning physique like Jessica's does of course involve a lot of sacrifice the actress told ELLE magazine last year.
Nevermind Jessica, I'm sure the sacrifices are completely worth it as the camera boy can surely attest to. If only I could find the screwdriver to jam my eyeballs …blah!