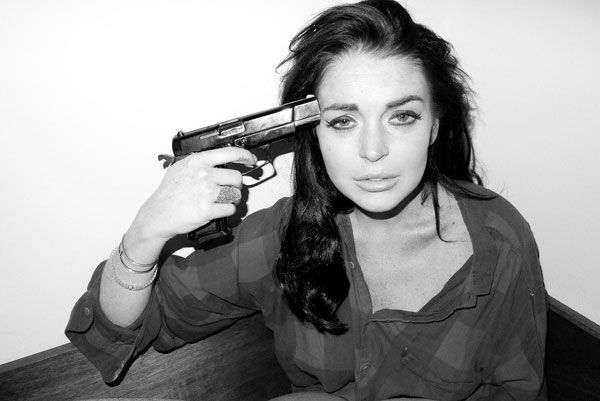 There's nothing more delightful than watching your favorite media whore and wondering in the back of your mind if they're really going to do the unbelievable. The unbelievable in this instance is Lindsay Lohan pulling back the choker and smashing a bullet through her head. I know, promises, promises…
Colliobarating with Terry Richardson once again (what does that bixch see in Lilo I wonder?) Richardson took some very tongue and cheek pics of Lilo, including a couple of her deep throbbing on the barrel. Hmm, I knew that shit might make you gag.
Anyway, have a look, according to Michael K of dlisted where I initially found the images, Richardson had attempted to take down some of the more risque pictures but after some careful prodding more were discovered…for your viewing (dis)pleasure.
And if you really want to throw up, this is what Terry Richardson also shot….
Graphic: Paz de la Huerta goes naked for Terry Richardson. Spreads those cheeks…