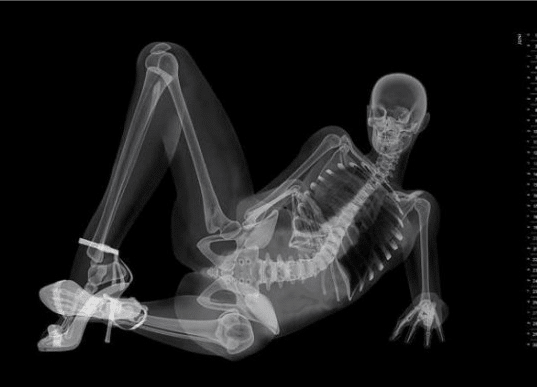 I couldn't help but be impressed when I inadvertently came across these x ray images. On one hand it's a clever way to advertise a brand, and on another level it says something at least from this man's perspective how a woman has become a commoditized object where upon even her own sexuality and beauty have been objectified with the implicit message a woman will stop at nothing for the right to brandish a pair of high heels or anything else that promotes her purported femininity, which forces the question how far have we really come along in the arena of feminism and the way we perceive and relate to women?
accidentalmysteries.blogspot.com: WHEN THE MEDICAL IMAGING FIRM EIZO needed a way to market their high tech x-ray imaging capabilities, they turned to the German ad firm BUTTER. Their solution: a pin-up calendar in which women bear all. Literally, everything! As the promotion concept put it, "Very popular among craftsmen but quite new for medics: Pin-up calendars! At last, one which shows absolutely every detail."
Anyway here's a sampling of some of the months that the girls were x rayed for their pin up calendar, (go to the above link to see more) and whilst you are looking at these images (all highly sexually suggestive) ask yourself is it all just playful clever marketing or just a continual denigration of women into objects, this time literally sex bare objects?