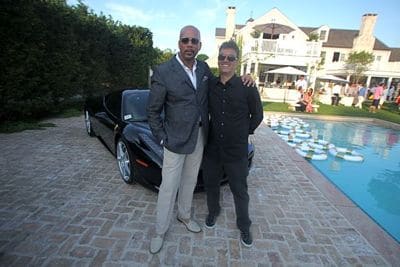 The third annual Ferrari Hamptons Rally offered a great excuse to sip Moet, watch a exhibition polo match and be surrounded by more than fifty of the sleek automotive beasts. Each magnificent automobile was a masterpiece of kinetic art and hearing the throaty growls of so many assembled gave goosebumps and pangs of envy.
Nathaniel Christian was the master of ceremonies, who couldn't but help show off his sexy beasts who had just done a 36 mile round preceding the round of polo to be played.
Other notable guests included actor Ed Westwick, jeweler Chris Del Gatto, Dina Lohan
and Social life editor in Chief Devorah Rose.
The crowd at Ferrari was young and beautiful mixed with the midlife crisis types who can afford the ownership of such rarefied  vehicles.
Pictures continue next page.