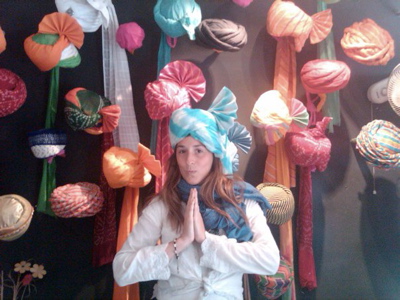 How delicious kids. What's a socialite to do without attending benefits and strutting in their Alexander Wang vixen outfits? Starring in a new reality show, becoming Anna Wintour's (and all the other preferred media editor's) concubines or something all together different?
Curious? I know I am. Let's all hold hands and find out.
First nominee to media whoredom: Emilie Ghilaga.
GoG; Emilie Ghilaga graduated from Goucher in 2008, kicked it in New York for a while, and then went all Eat, Pray, Love in India, where she spent her time "living, breathing, loving and learning." Oh, and starting a clothing line.
India? Learning how to breathe and then becoming her own fashion label. Kids we should all learn how to breathe, that way you too can return to your native roots and rock as a holier than thou fashion designer. Personally, I'm still gasping after the first breath…blah.
GoG: What makes her a socialite:
What makes her a neolite:
She lives in Williamsburg!!!

She writes really long, in-depth treatisies on topics such as "Love and Fear" and posts them on her facebook.

Friends with Paul Johnson Calderon
Lists "Ayn Rand" as one of her idols.

Socialite- Nightingale Bedford– yes, that is a delicious school to attend if you can ever get on the waiting list. Describes herself as "well-traveled, well-read, well-bred". We'll take Emilie's word (for now)- but may I remind you Emilie my dog 'Charisma' is also well bred. I even have the receipts to prove it.
In a Paper mag interview she states that "Most Westerners have a tailor in India."
Do they? My tailor is the old hocked items I pick up at the Salvation army. Sorry Alexander Wang…