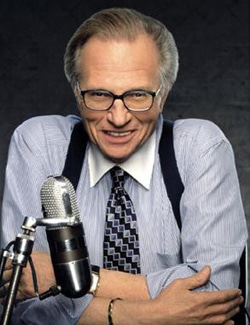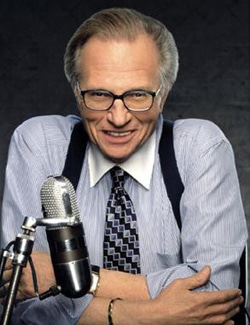 When Hollywood is desperately trying to figure out who has the Midas touch…
It's been rumored that the 75 year old Larry King will be retiring when his contract is up in 18 months and that knowledge has suddenly got a lot of industry insiders giddy and nervous as it seeks to maintain it's symbiotic parasitic relationship with Hollywood at an all time high (sorry kids but we told you this is where all the dreams and money is…).
That said parasitic executives have started casting their net wide and wondering who they can possibly attract to continue the dribble, the fawning and the mock love that Larry has been able to effortlessly exude since 1985.
Possible fill ins include Joy Behar (of course that depends on how her new show does on Cnn), controversial Fox news host Glen Beck (now that's just teasing us people!), Katie Couric (why bother…), Ryan Seacrest (American Idol over paid gigolo) and Larry King's Siamese cat Twinky…
That said here's our top ten list of who should replace Larry King.
1/ Kristian Laliberte. This boy has got the looks, the youth and the ability to stir up trouble at a moment's notice. We think Kristian will have Hollywood pandering and crying at the same time, of course we do wonder if Kristian could assuage himself of his permanent retreat of Nantucket island, not the most Hollywood accessible locale.
2/ Adrien Field. Society and fashion guru to lower Manhattan and all men over the age of 23 capable of carrying a man bag we think Adrien could be a 'shoe in' and after all he was seen sitting front row at just about every important fashion show in the recent NY Collections(bless your soul Adrien!).
3/ Devorah Rose. With her 'bitch' status in place (even if we personally disagree with you ungrateful vermin and are in love with Devorah) we think Devorah could really rally ratings to a new high or god help us a new low…
4/ Nick Denton. We'd love to see the king of sleaze and Gawker take on this coveted role – we think it could very exciting but we think it may lead to some adolescents hurting themselves…
5/ Michael Musto. The Village Voices's very own fag and hag who just loves pink toys and we bet Hollywood nightclubs.
6/ Chef Gordon Ramsey. We think his British accent could inspire more cooking secret recipes.
7/ Barbara Walters. She is the diva herself and we want her firmly where she belongs- in front of our frozen micro wave dinners.
8/ Madonna. We think her biceps could incite more shocking revelations and precious hand holding sessions,
9/ Anderson Cooper. We really believe this young hunk and socialite can mobilize Hollywood and have underground nightclubs in Hollywood rushing to indoctrinate Anderson and his GQ looks. We think a Larry King swim suit calendar starring Anderson could do wonders for America.
10/ Pundit and conservative but loveable nihilist Bill O'Reilly could really be the man here. It's about time Hollywood got what was coming to it…