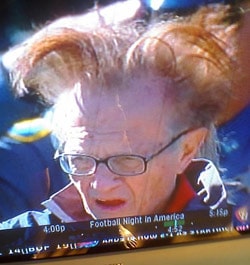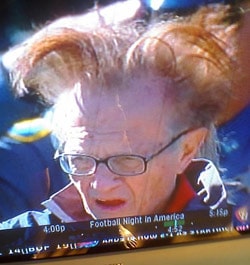 Trying to understand why Larry insists on wearing his braces around his shoulders and not his mouth…
Here's something we've been thinking about lately- when is enough –enough and what passes for appropriate discourse? It seems with the advent of hyper tech news feeders rigged to entertain you and me around the clock, the line of thought in most high profile anchor reporters- like Larry for instance has veered from the provocative, inspirational and conducive to that of inflammatory, heresy and maniacal attempt to shock, imply and prod you out of your sleepy sofa.
Apart from meaningless discourse that only inflames stereotypes ("So Michael wasn't a freak? But I'll ask you another question about his freak face deformities…") – one has to wonder what ever happened to the type of journalism that used to make young people take pride in such professions instead of viewing it as a self serving mechanism to being nihilistic, inappropriate, and essentially an annoying 'mouth- jockey' to stoke hysteria and a self referential ego platform.
The things that intelligent human beings should never be subjected to along with yellow and red braces…