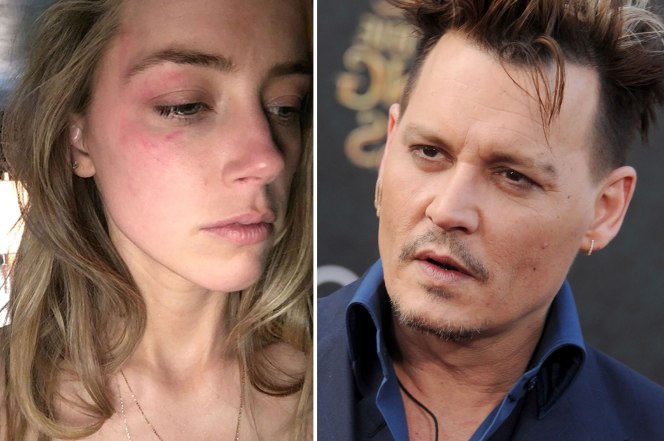 Johnny Depp beating: Johnny Depp's legal team insists that Amber Heard's claims of physical abuse are lies as cops insist she had no sign of injury.
Johnny Depp has responded to allegations from his estranged wife, Amber Heard insisting that her claims of domestic violence against her are lies.
The denial comes despite Amber Heard, 30 insisting that Depp, 52 offered to pay her off to keep the incident quiet.
Nevertheless a report via people tells of a source saying this weekend's alleged beating which saw Depp smash his i-Phone against his wife's face are one of many instances of domestic abuse and not an isolated event.
According to TMZ, Depp allegedly 'shattered various objects' during Saturday's altercation at the former couple's Los Angeles' home.
At the time, Heard was on the phone with a friend during the alleged fight and when Depp began to pull her phone away from her she told the person on the other line to call the police.
Depp was gone by the time they arrived but investigators did take a statement from Heard and write up a report. 
Is Amber Heard lying for money? Cops saw no black eye marks
'He offered to pay me hush money' Johnny Depp domestic abuse. Amber Heard files restraining order
Amber Heard Johnny Depp divorce: 'What am I doing with this fat old man?'
Johnny Depp divorce: Why did Amber Heard want out?
Amber Heard leaves court after being granted a restraining order against husband Johnny Depp https://t.co/5iq8Fm6gg0 https://t.co/cRPHsLBR4l

— Sky News (@SkyNews) May 27, 2016
Details of Amber Heard's alleged attack 2 days before she filed for divorce https://t.co/hfJ4FJod5M pic.twitter.com/hIaqMDphgn

— People Magazine (@people) May 27, 2016
The alleged fight occurred just one day after the death of Depp's mother Betty Sue Palmer, who passed away last Friday.
Heard filed for divorce after just 15 months of marriage, citing irreconcilable differences as the reason for the split in her petition. 
Depp responded to Heard's petition on Wednesday asking that the court rule he should not be required to pay spousal support and requesting that his estranged wife pay her own attorney fees. 
The couple does not appear to have a prenuptial agreement.  
In her filed restraining papers, Heard blamed her estranged husband's dependency on drugs and booze, while alleging the icon was verbally and physically abusive during their entire relationship.
During Friday's filing, Depp's lawyer, Laura Wasser responded, accusing Heard of lying and filing the papers in the hopes of getting a 'premature financial resolution'.
It is understood that the actor is worth close to $400 million and could now see himself being forced to pay up to $15 million to $45 million in a settlement package to his wife of only 15 months after marrying without a prenup agreeement.
Filed papers claims Johnny 'suddenly began obsessing' about something before grabbing his phone and then 'wound his arm like a baseball pitcher and threw the cell phone at her striking her cheek and eye'.
Notes TMZ also claims: 'She claims he also pulled her hair and struck her, then she says he grabbed a magnum-sized bottle of wine, chugged some and then used the bottle to break objects around the house.'
Y'all saying that Amber wasn't a gold digger then why don't y'all explain her need for $50,000 a month #SupportJohnnyDepp

— Sydney Milton (@sydneymilton17) May 28, 2016
Amber heard is not a victim, or a beaten wife staying strong…she is a lying, scheming, gold digging bitch. #SupportJohnnyDepp

— Emma Clark (@NuttyMadam) May 27, 2016
Amber Heard is a precious queen please protect her at all costs.

— Superhero Feed (@SuperheroFeed) May 27, 2016
Credit to Amber Heard and many other women for speaking up about Domestic Abuse. Johnny Depp, you are over. ?? pic.twitter.com/ptCL6BQDV7

— Shady Music Facts (@musicnews_shade) May 27, 2016
The latest claims come despite the LAPD saying they have no evidence of Amber Heard suffering any injuries after arriving at the couple's home after the dispute. According to cops, Heard refused to give a statement to police, who have given her a number to call if she changes her mind.
Friday's order of protection granted the model/actress the right to stay in the home she shared with Johnny Depp after she was awarded a temporary restraining order against him.
In her restraining order, Heard asked for the house they shared, their dogs, and their Range Rover with the judge in turn the battered woman a temporary restraining order, requiring Johnny Depp to stay 100 yards away from Amber until a court hearing in June.
Depp has been approached for comment on these claims but has yet to respond, instead a representative of the actor put out the following statement:
'Given the brevity of this marriage and the most recent and tragic loss of his mother, Johnny will not respond to any of the salacious false stories, gossip, misinformation and lies about his personal life,'
'Hopefully the dissolution of this short marriage will be resolved quickly.'
Something that is increasingly appearing will be anything but the case…
How can people still say that amber heard is lying for money and johnny depp is innocent pic.twitter.com/Rf1NAkJf7Y

— alex (@jenniferIwrnce) May 27, 2016